Discover Korean Food 176: Dr. Sook-Ja Yoon's "Dwaeji-Galbi-Jjim"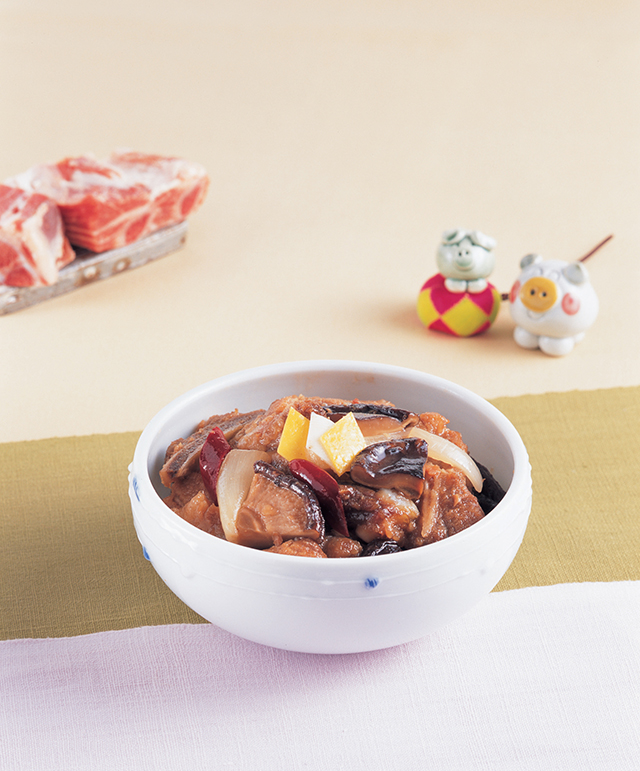 Dwaeji-Galbi-Jjim is a pork ribs dish with shiitake mushroom, onion, and seasoning sauce.
[Ingredients & Quantity]
550g pork ribs, 1kg (5 cups) water, 400g (2cups) water
10g (2) shiitake mushroom, 80g onion, 60g (1) egg
6.5g (½tbsp), 4g (1) red chilli
* Seasoning sauce 1: 16g (1tbsp) ginger juice, 15g (1tbsp) refined rice wine
* Seasoning sauce 2: 36g (2tbsp) soy sauce, 12g (1tbsp) sugar, 15g (1tbsp) refined rice wine, 14g (1tbsp) minced spring onion, 8g (½tbsp) minced garlic, 16g (1tbsp) ginger juice, 4g (1tsp) sesame salt, 0.3g (1/8tsp) pepper powder
[Preparation]
1. Cut the pork ribs in 5cm long; clean; soak in water for 1 hour; make cuts in 1.5cm wide.
2. Cut the red chilli in 2.5cm long and 0.5cm wide.
3. Soak the shiitake mushroom for 1 hour; remove the pillars; cut in half. Cut the onion in 5cm long and 1cm wide.
4. Fry the egg (separately in white and yellow); cut in 2cm long.
5. Prepare the seasoning sauces.
[Recipe]
1. Boil the pork ribs for 5 minutes at high temperature; soak in the seasoning sauce 1 for 10 minutes.
2. Add the half of seasoning sauce 2; leave for 30 minutes.
3. Panfry the red chilli for 1 minute at medium temperature; add the ribs; panfry for 2 minutes. Add the water; boil for 3 minutes at high temperature; for 20 minutes at medium temperature.
4. Add the rest of the seasoning sauce 2 with shiitake mushroom. Boil at low temperature for 20 minutes. Add onion; boil for 5 minutes.
5. Serve with the eggs
[Tips]
* You should remove the blood to get rid of the smell.