Discover Korean Food 177: Dr. Sook-Ja Yoon's "Bokryung-Hodoo-Juk"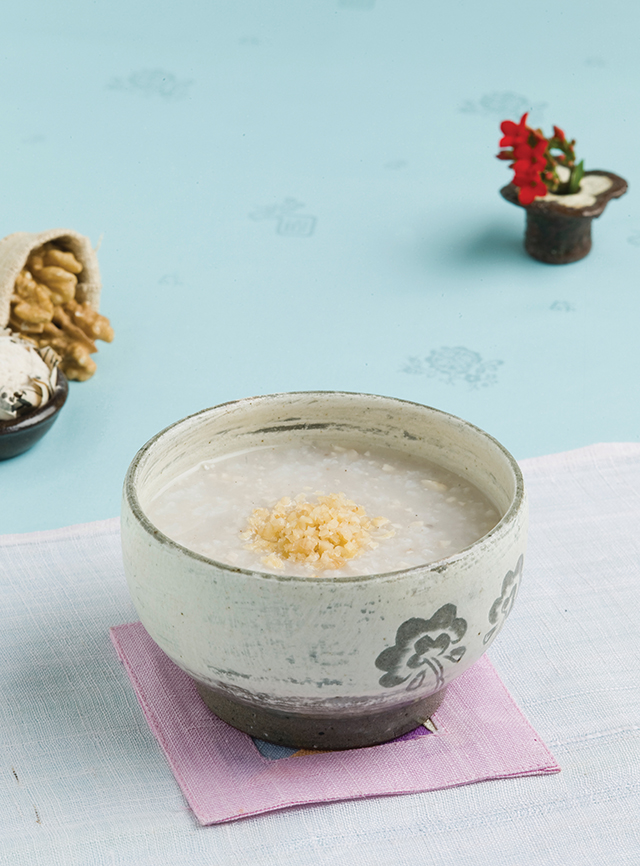 Bokryung-Hodoo-Juk is a walnut porridge with nonglutinous rice and poria cocos powder. It is good for constipation; a poria cocos is good for digestion while walnut is good for skin.
[Ingredients & Quantity]
1 cup nonglutinous rice
15g poria cocos powder, 6 walnut
7 cups water, 1tsp salt
[Recipe]
1. Soak the nonglutinous rice in water for 2 hours; drain.
2. Blanch the walnut; chop.
3. Boil the nonglutinous rice at medium temperature for 25 minutes; stir. Add the walnut; boil for 2 minutes.
4. Season with poria cocos powder and salt; boil for 2 minutes. Serve with the chopped walnut.
[Tips]
* Do not add the poria cocos powder at the same time with the rice (It will become sticky).