Discover Korean Food 60: Dr. Sook-Ja Yoon's "Hyun-Mi-Juk-Tong-Bab"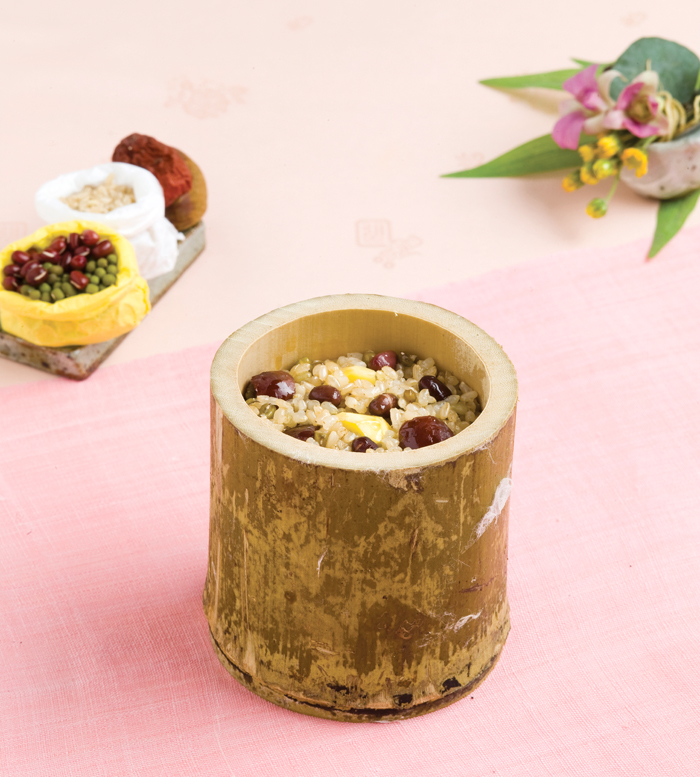 Hyun-Mi-Juk-Tong-Bab is a steamed Brown glutinous rice dish mixed with various nuts in a bamboo tube. Mung bean is a diuretic and good for reducing the body temperature. Adzuki bean is also called "Juk-so-du". It helps water metabolism and stops diarrhoea.
[Ingredients]
1 bamboo tube (5cm in diameter), 2cups brown glutinous rice, 1 and 1/2cup water
30g mung bean, 30g adzuki bean, 3 chestnut, 4 dates, 1/2 tsp salt
[Recipe]
1. Soak the brown glutinous rice in water for 3 hours. Strain it.
2. Cut the bamboo tube in 20cm length. Block one side.
3. Soak the mung beans in water for 3 hours. Strain them. Boil Adzuki beans. Drain water. Pour fresh water on them. Boil them at medium temperature for 20 minutes.
4. Cut the chestnuts in 4 pieces. Cut the dates in 6 pieces after removing the seeds.
5. Place the brown glutinous rice, mung beans, Adzuki beans, chestnut, and dates in the bamboo tube. Pour salt water in them.
6. Cover the tube with Hanji (traditional Korean paper handmade from mulberry trees). Place the tube inside a caldron. Pour water up to half height of the tube. Steam it for 50 minutes.
[Tip]
*You can use a steamer to reduce the cooking time.