Discover Korean Food 62: Dr. Sook-Ja Yoon's "Mu-Ansim-Pyun-Chae"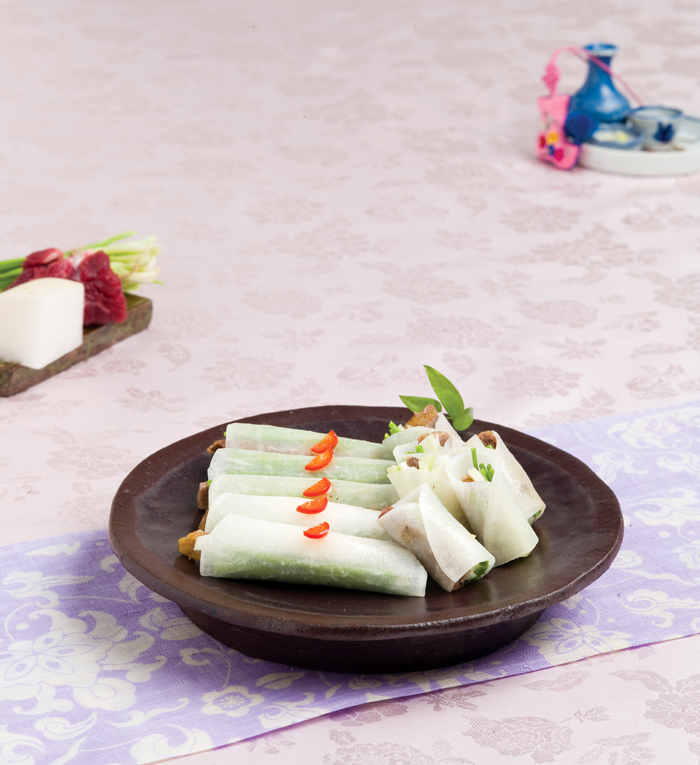 Mu-Ansim-Pyun-Chae is a rolled white-sour-radish dish filled with fillet steak, onions, and spring onions. White radish is good for digestion. It helps keep the stomach comfortable. It reduces the body temperature and prevents suffering from chest congestion and Cholelithiasis. It is especially good for coughing, spiting blood and a disease symphonized by thirst.
[Ingredients]
100g white raddish
150 fillet steak
30g chives, 30g onion, 1/2tsp salt, 1/2tbsp sesame oil, 1/2tbsp sesame salt
White-sour-radish-water: 1tsp salt, 3tbsp vinegar, 4tbsp sugar, 1cup water
Steak sauce: 2tsp soy sauce, 1/2 tbsp sugar, 1/2tsp semame oil, 1/2tsp minced spring onion, 1/2tsp minced garlic, 1/8tsp pepper powder
[Recipe]
1. Peel the white radish. Cut it in 0.2cm depth . Soak them in the White-sour-radish-water for 20 minutes.
2. Cut the fillet steak in 0.2cm depth and 5cm length. Marinate them with the sauce.
3. Cut the chives in 4cm length. Chop the onions. Soak in water to remove the acrid taste. Strain it. Hand-mix with the salt, sesame oil, and the sesame salt.
4. Fry the fillet steaks
5. Place them on the white-sour-radish with the chives, spring onions. Roll up the piece of radish.
[Tip]
* You can use gardenia-seeds-water or white-lotus-water to add a colour in White-sour-radish-water.