Discover Korean Food 64: Dr. Sook-Ja Yoon's "O-Ga-Pi-Dak-Nalgae-Zim"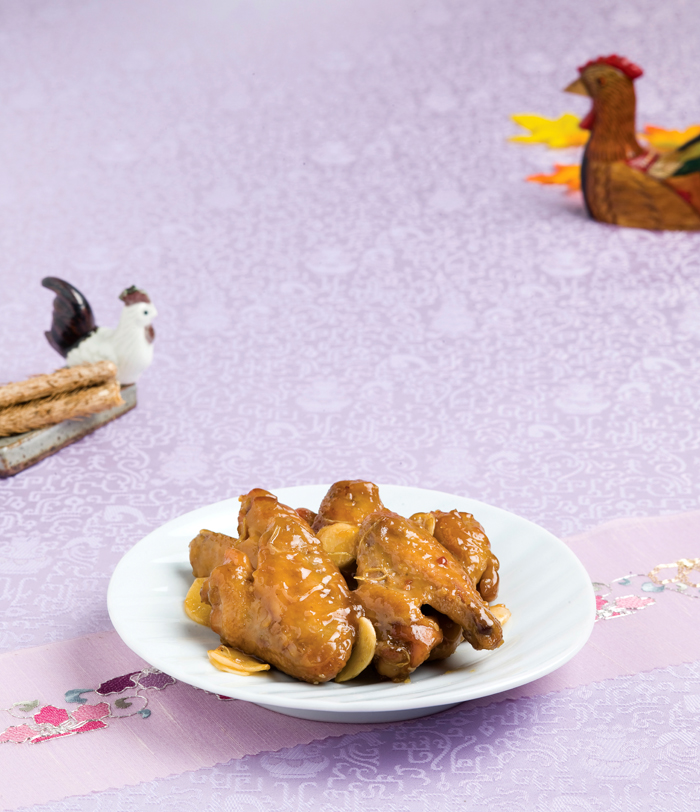 O-Ga-Pi-Dak-Nalgae-Zim is a chicken wing dish boiled down in a Acanthopanax sauce. A chicken includes more protein than a beef and its taste is better for glutei acid. A Acanthopanax helps keep strong bones and muscles and removes Oedema. I t prevents from the pain in one´s joints and getting cramps in one´s leg. It is especially good for back and knee aches.
[Ingredients]
10g Acanthopanax, 2cups water
10 chichen wings, 1tsp salt, 2tbsp vegetable oil, 1tsp sesame oil
Seaning sauce: 1cup Acanthopanax water, 2tbsp soy sauce, 1tsp minced garlic, 1/2tbsp starch syrup. 1/2tsp ginger juice, 1tsp sesame salt, 1/8 pepper powder
Garnish: 1/2 spring onion, 10g garlic
[Recipe]
1. Make the Acanthopanax water: boil the Acanthopanax. Leave it to medium temperature for 20 minutes.
2. Remove the edge of the wings. Cut inside and season with salt. Leave them for 30 minutes. Panfry them for 3 minutes at medium temperature and 7 minutes at low temperature.
3. Cut the spring onions in 2cm length. Chop the garlic.
4. Boil the Acanthopanax water. Add the chicken wings and sauce. Boil them for 10 minutes at medium temperature. Boil down for 3 minutes.
5. Insert the spring onions and garlic. Add the sesame oil.
[Tip]
* To remove the smell, add the coriander when you boil the chicken.
* Chicken drumsticks can be used instead of the wings
* Cheongyang chili (pepper) can be added to spicy up