Discover Korean Food 68: Dr. Sook-Ja Yoon's "Saengseonjeon, Pan-fried Fish Fillet, Noodles in Chilled White Bean Soup"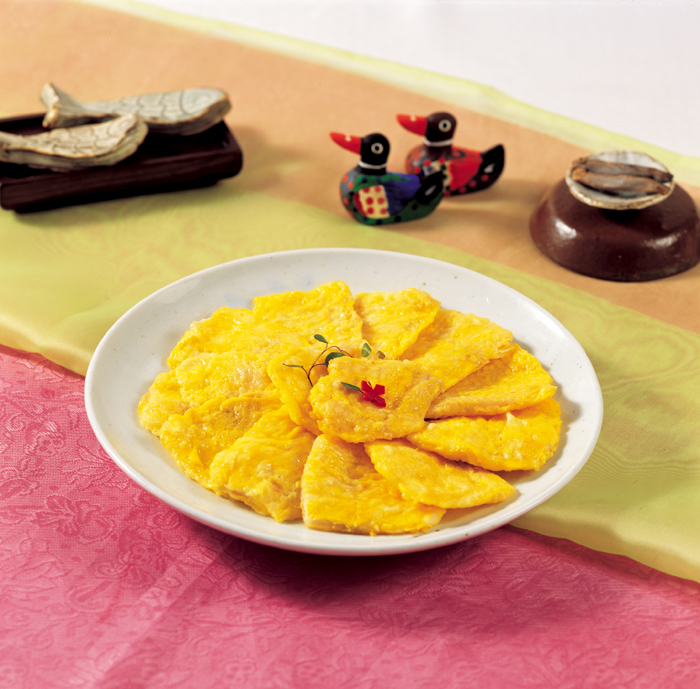 Saengseonjeon is a dish of white fish fillets that are coated with wheat flour and egg wash then pan-fried. Fish used for saengseonjeon are white-flesh fish such as croaker, frozen pollack, sea bream and gray mullet. Saengseonjeon may also be called 'jeonyueo', (oil-fried fish) or 'jeonyuhwa' (oil-fried flower) for its beauty.
[Ingredients & Quantity]
300 g white fillet fish (frozen pollack), 1 g (¼ tsp ) salt, 0.3 g (⅛ tsp) ground white pepper
21 g (3 tbsp) wheat flour, 120 g (2 ea) egg, 26 g (2 tbsp) edible oil
Vinegar soy sauce : 18 g (1 tbsp) soy sauce, 15 g (1 tbsp) vinegar, 15 g (1 tbsp) water
[Preparation]
1. Trim and wash the fish, slice the flesh from both sides. Peel the skin and slice white fish flesh into 6 cm-wide, 5 cm-long and 0.5 cm-thick.
2. Sprinkle salt and ground white pepper on the fish fillet, let it sit for 10 min. and pot dry with cotton cloths (240 g).
3. Beat eggs.
4. Blend vinegar soy sauce.
[Recipe]
1. Coat sliced fish fillet with wheat flour and dip in beaten egg.
2. Preheat the frying pan and oil. Panfry the fish on medium heat for 2 min. and another 2 min. after turn over.
3. Serve with vinegar soy sauce.
[Tips]
* If the fish fillet is fried on too high heat, it will be burnt, if fried on too low heat, it will absorb too much oil, the coating will be easily off and mess the surface. Fry it on medium heat to be cooked into yellowish.
* The white flesh fish-such as croaker, flatfish and codfish may be cooked in same way.