Discover Korean Food 69: Dr. Sook-Ja Yoon's "Imjasutang, Chilled Chicken Soup"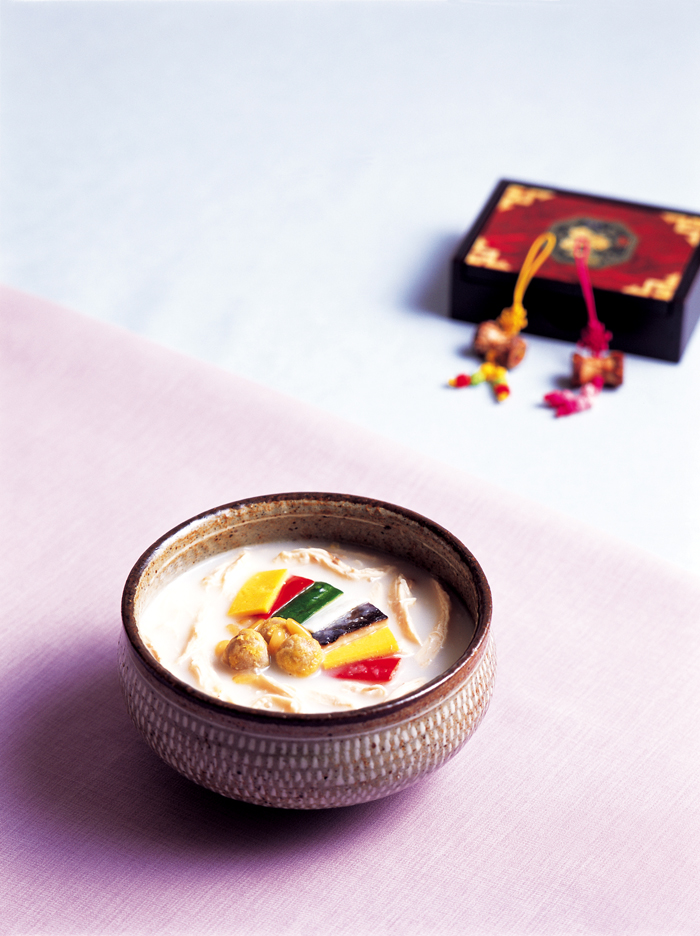 Imjasutang is a cold soup with chicken meat in a chilled broth that is a mixture of ground roasted sesame seeds and chicken stock. "Imja" refers to white sesame. Imjasutang may also be called 'kkaekkuktang.' It is believed to maintain health in the summer. This soup was enjoyed by royalty and noble families in olden days.
[Ingredients & Quantity]
100 g (½ ea) cucumber, 2 g (½ tsp) salt
15 g (3 stems) brown oak mushrooms
20 g (1 ea) red pepper, 3.5 g (1 tsp) pine nuts
60 g (1 ea) egg, 24 g (3 tbsp) starch powder
1.2 ㎏ (1 head) chicken: 2 ㎏ (10 cups) water, 1 g (¼ tsp) salt
fragrant seasoning: 20 g green onion, 15 g (3 cloves) garlic, 5 g ginger
Sesame broth: 1.4 ㎏ (7 cups) broth, 100 g sesame seeds, 6 g(½ tbsp) salt
Dumpling: 80 g minced beef(top round), 20 g tofu, 60 g (1 ea) egg, 14 g (2 tbsp) wheat flour
Seasoning sauce: 2 g (⅓ tsp) clear soy sauce, 0.5 g (⅛ tsp) salt, 4.5 g (1 tsp) minced green onion,
2.8 g (½ tsp) minced garlic, 0.1 g ground black pepper, 2 g (½ tsp) sesame oil
[Preparation]
1. Remove internal organs and fats from the chicken and wash cleanly (1.1 kg).
2. Soak the sesame in water for 1 hour, wash it by rubbing and drain water on a strainer for 15 min (160 g).
3. Clean blood of the minced beef with cotton cloths (75 g). Mash the tofu (15 g) and season with seasoning sauce. Shape dumplings with 2.5 g of the stuff into 1.5 cm diameter (dumplings 32 ea).
4. Wash and clean the cucumber by rubbing with salt, cut it into 1.5 cm-wide, 3 cm-long and 0.3 cm-thick (40 g), marinate it with salt for 5 min. wipe water with cotton cloths. Soak brown oak mushrooms in water for 1 hour and cut it into same size of the cucumber (30 g). Halve the red pepper, seed and cut into same size of the cucumber (6 g).
5. Remove tops of the pine nuts and wipe the nuts with dry cotton cloths.
6. Panfry the egg for yellow/white egg garnish and cut it into 1.5 cm-wide and 3 cm-long.
[Recipe]
1. Put the chicken in the pot and add water, boil it for 10 min. on high heat. Reduce the heat to medium, boil it for 10 min. Boil it for another 20 min. after adding fragrant seasoning.
2. Take out the chicken from the pot, separate the meat from bone, rip up the meat into 0.5 cm-thick (430 g) and season with salt. Cool down the soup and strain through cotton cloths to provide broth (1.4 kg).
3. Stir-fry the sesame seeds for about 10~15 min. on medium heat (90 g). Grind it with 400 g of chicken broth finely in the mixer, then strain it. To blend sesame liquid, add remained broth (1 kg) and season with salt (1.4 kg).
4. Coat the dumplings with wheat flour and beaten egg. Preheat the frying pan and oil, panfry dumplings with rolling for 5 min. on medium heat.
5. Coat the cucumber, mushrooms and red pepper with starch powder, scald it in water for about 20~30 sec. and rinse in cold water.
6. Place the chicken meat on a dish, lay out the provided several vegetables around the dish, pour the sesame broth, and then top the pine nuts on it.
[Tip]
* In summer, ice cubes may be served in the soup.