Discover Korean Food 83: Dr. Sook-Ja Yoon's "SOOYUK-GAETYIP-SAENGCHAE"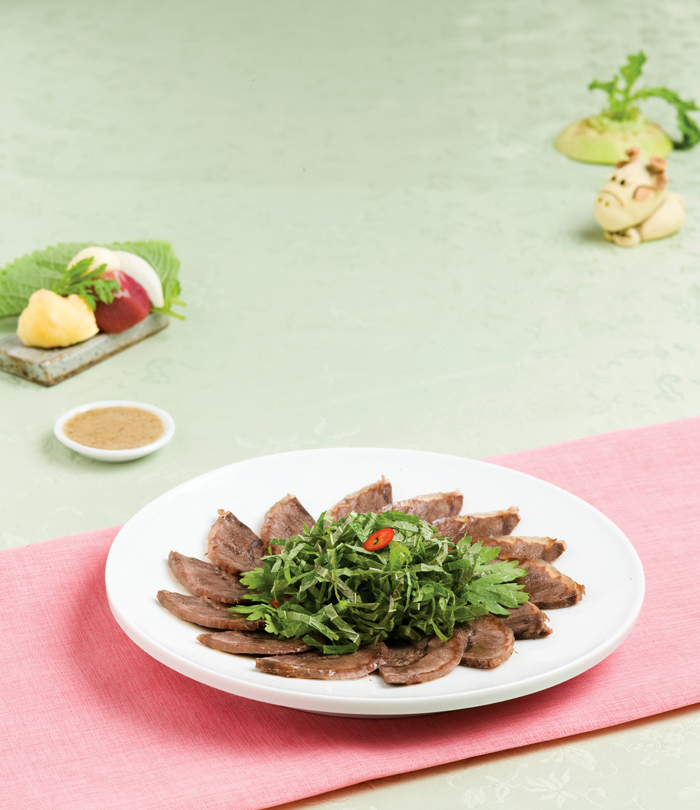 SOOYUK-GAETYIP-SAENGCHAE is a boiled beef dish, with sesame leaf and sesame sauce. It helps the appetite and maintains good digestive organs. The taste of beef is mild. The meat of water buffalo keeps the body cool while ox keeps the body warm.
[Ingredients]
200 g beef, 5 g ginger, 3 garlic, ¼ onion, spring onion 15 g, 50 g sesame leaf, 15 g crown daisy
* Sesame sauce: 4 tbsp sesame, 2 tbsp meat broth, 1 tbsp soy sauce, 2 tbsp vinegar, 1½ tbsp sugar, 1 tbsp refined rice wine
[Recipe]
1. Place the beef in a sauce pan after wiping it. Boil it for 20 minutes at medium temperature. Add the ginger, garlic, onions and spring onion. Boil them together for another 10 minutes.
2. Cut the beef 4 cm in width, 2 cm in length, and 0.2 cm in depth. Cool down the beef water. Strain it through cotton.
3. Wash the sesame leaves. Cut them 0.5 cm in width, 5 cm in length. Cut the crown daisy in 5 cm in length.
4. Fry the sesame after cleaning. Grind to make the sauce.
5. Place the slices of boiled meat, sesame leave, crown daisy, on a plate. Dress with the sesame sauce.
[Tips]
* Pork can be used instead of the beaf.
* Use cold water to wash sesame leave, and the crown daisy for freshness.
* Pine nut can be used instead of the sesame seed to make the sauce.