Discover Korean Food 92: Dr. Sook-Ja Yoon's "MEMIL-JUNBYUNG-SSAM"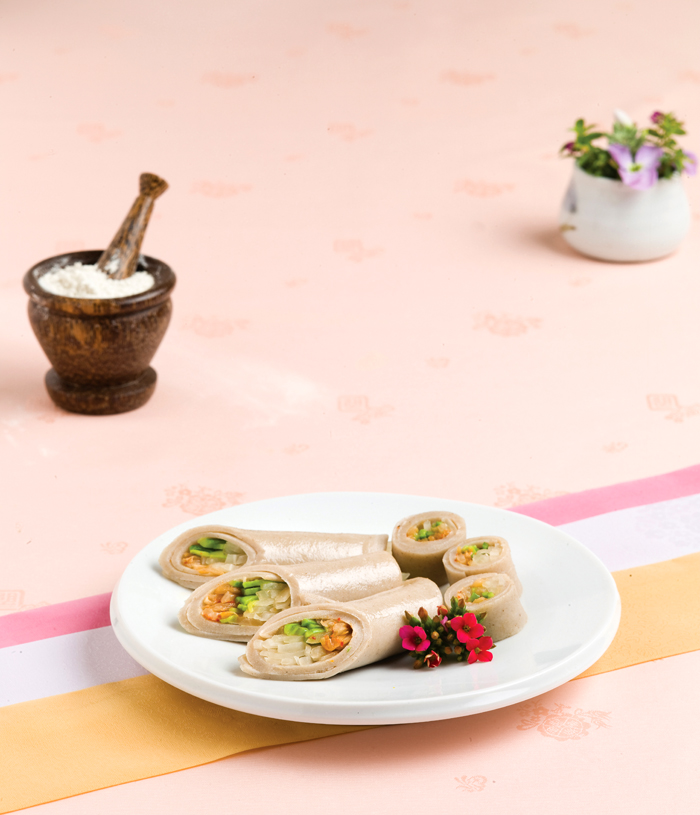 MEMIL-JUNBYUNG-SSAM is a buckwheat pancake wrapped with pumpkin, radish, and cabbage kimchi. Buckwheat is also called GYO MAECK and it is good for the intestines. The characteristic of buckwheat is cold. It keeps the blood vessel strong and reduces blood pressure. However, it is not recommended to someone who has weak digestive organs.
[Ingredients]
1 cup buckwheat flour, 1½ water, ¼ tsp salt
½ young pumpkin, 1 tsp salt, 1 tsp vegetable oil
150 g radish, ½ tsp soy sauce, ½ tsp salt, ½ minced garlic, ½ tsp sesame oil
120 g cabbage kimchi
½ vegetable oil
[Recipe]
1. Dough the buckwheat flour with water and salt. Leave it for an hour after straining it.
2. Cut the pumpkin 5 cm in length. Peel it 0.3 cm in thickness. Cut it 0.3 cm in depth. Soak them in salty water fir a short period. Drain. Pan-fry for 30 seconds.
3. Cut the radish to the same size as the pumpkin. Soak them in salty water for 2 minutes. Drain them.
4. Chop the kimchi. Pan-fry them for 2 minutes.
5. Pan-fry the dough with vegetable oil in 10 cm thickness.
6. Wrap the pancake with the radish and cabbage kimchi. Slice them.
[Tip]
* Do not pan-fry too thick or they will break.