Dr Genshitsu Sen, 15th Urasenke Grand Master, talk and demonstration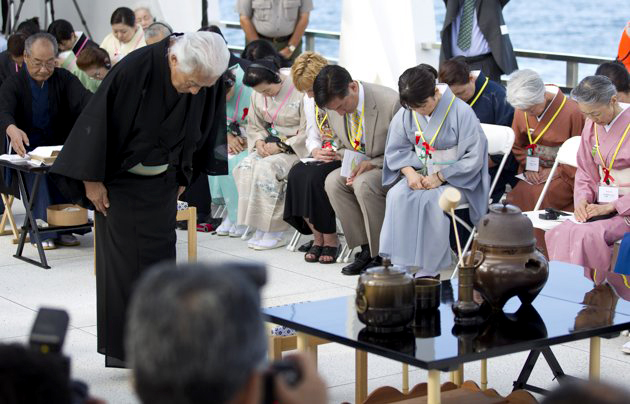 Date: 22 September 2011 14:30
Venue: The British Museum, BP Lecture Theatre, Great Russell Street, London WC1B 3DG
E-mail: chadouk@me.com
Web1: http://www.britishmuseum.org/
Web2: http://www.urasenke.co.uk/
Organiser: Jointly organised by the British Museum and Urasenke Foundation
A lecture-presentation with English translation about the Way of Tea (chado) by Dr Genshitu Sen, 15th Urasenke Grand Master, will take place at the BP Lecture Theatre in the British Museum on Thursday, 22nd September 2011 from 14 :30.
The Way of Tea is recognised around the world as being representative of Japanese traditional culture. The Urasenke school of tea transmits the fundamentals and aesthetics of tea as it was developed by Sen Rikyu (1522-91), and preserved by generations of masters through direct transmission from the sixteenth century.
Dr Genshitsu Sen was born as the first son of the14th Urasenke Grand Master. Upon his father's death in 1964 he succeeded as the 15th Urasenke Grand Master. In 2002, after thirty-eight years as head of Urasenke, he transferred the position to his elder son.
He has devoted his life to spreading the spirit of the Way of Tea around the world to promote understanding between people, which he believes is the foundation for lasting international peace. He phrases this as spreading "peacefulness through a bowl of tea".
In 1997, he was awarded the Order of Culture by the Emperor of Japan. Since September, 2005, he has been serving as Japan-U.N. Goodwill Ambassador, a position to which he was appointed by the Japanese government.
Matcha Tasting (13:30 – 14:20)
There will be matcha, Japanese powdered green tea, served by Urasenke members before the presentation.
Jointly organised by British Museum and Urasenke Foundation.
Admission free, no booking necessary, limited places.