Dulcinea Quartet Concert at St.Cyprian's Clarence Gate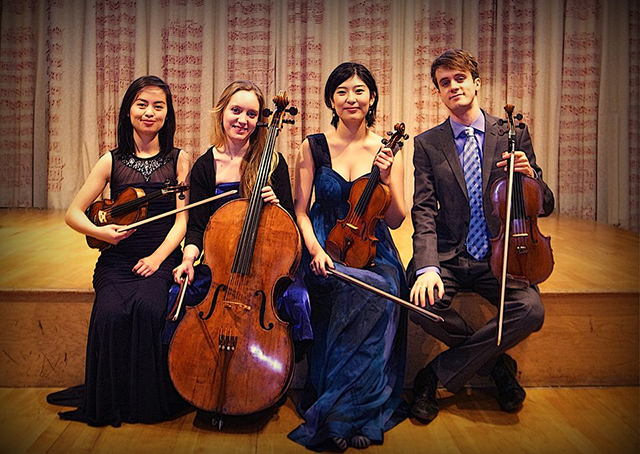 Programme includes British composer such as Edward Elgar and Frank Bridge.
The Dulcinea Quartet was formed in 2008 at the Royal Academy of Music by Japanese and British young musicians. In 2011, the Quartet was joined by cellist Hannah Masson-Smyth, followed by violist Martin Wray in 2012. Whilst studying at the Academy, the Dulcinea Quartet has participated in master classes with the Wihan,Skampa and Vanbrugh Quartets. They have received coaching from eminent musicians such as Thomas Brandis, Martin Outram, Garfild Jackson, Harmut Rohde and Richard Deakin. The Quartet was recently commended for their performance of Schumann's String Quartet No.2 in the Wolfe Wolfinsohn Quartet Prize. They perform frequently at the Royal Adademy of Music as well as giving recitals in and around London.The Quartet also enjoys performing modern works. They are part of 'Anima', a small chamber ensemble which plays contemporary music alongside animated films.
Most recently the Dulcinea Quartet performed the premier piece 'Three Landscapes' by Japanese composer Keiko Takano at St. Sepulchre's musicians church on Wednesday 8th January. Also concerts in the Lake District for the LDSM 2013 International Summer Music Academy.
The Dulcinea Quartet having a concert tour in Japan from 7th to 17th March.We having recitals in Tokyo and Sendai, with mainly the compositions of both Japanese and British composers.Also having concerts at hospitals and kindergarden or a community spaces in Iwate, Shiogama Miyagi, and Hitachiota Ibaraki.
Admission: £8 ( Tickets includeing a Glass of wine) Students £5
Date: 31 January 2014, 7.00pm – 8.00pm
Venue: St.Cyprian's Clarence Gatem, Glentworth St, London NW1
Email: dulcineaquartet@gmaul.com
Web: https://www.facebook.com/DulcineaQuartet
Organiser: Dulcinea Quartet