Dulcinea Quartet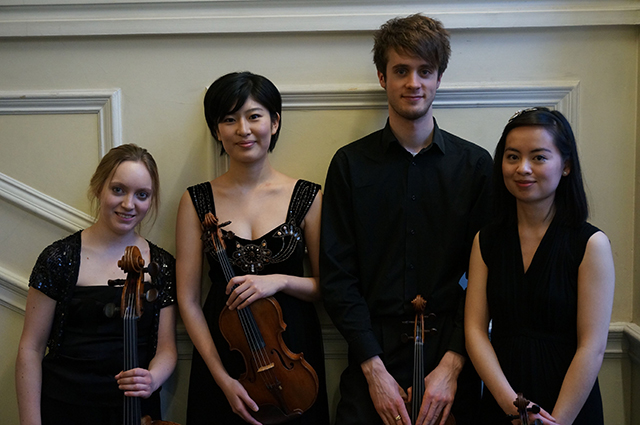 Programme:
Haydn String quartet Op.74 No.1 C major:
1. Allegro moderato
2. Andante grazioso
3. Menuet, Allegro
4. Final, Vivace
Keiko Takano Three Cloudscapes (premier)
Edward Elgar String Quartet op.83
1. Allegro moderato
2.Piacevole (poco andante)
3.Allegro molto
Programme Notes:
Three Cloudscapes for string quartet (Keiko Takano)
This work was inspired by photos of cloudscapes over the Sagami Bay in Japan, which were taken by the photographer Tsutomu Kata. The photo beautifully depict moments of glorious colours and shapes of the nature, featuring especially those to be found in the clouds. I wrote this piece by a process of converting the image of photographs into a musical equivalent of woodblock print images, in which each colour is simple and monotonous on its own but becomes interesting when combined with other colours.
Artist info:
Dulcinea Quartet
1st violin:  Minn Majoe,
2nd violin:  Haru Ushigusa,
viola:  Martin Wray,
cello:  Hannah Masson-Smyth.
The Dulcinea Quartet was formed in 2008 at the Royal Academy of Music. In 2011, the Quartet was joined by cellist Hannah Masson-Smyth, followed by violist Martin Wray in 2012. Whilst studying at the Academy, the Dulcinea Quartet has participated in master classes with the Wihan,Skampa and Vanbrugh Quartets. They have received coaching from eminent musicians such as Thomas Brandis, Martin Outram, Garfild Jackson, Harmut Rohde and Richard Deakin. The Quartet was recently commended for their performance of Schumann's String Quartet No.2 for the Wolfe Wolfinsohn Quartet Prize. They perform frequently at the Royal Adademy of Music as well as giving recitals in and around London.The Quartet also enjoys performing modern works. They are part of 'Anima'; a small chamber ensemble which plays contemporary music alongside animated films.
Most recently the Dulcinea Quartet performed concerts in the Lake District for the LDSM 2013 International Summer Music Academy. Upcoming concert include at S.Cyprian's on 31st January. The Quartet is also arranging a tour of Japan and performing at Tokyo, Sendai and Ibaraki in March 2014.
Keiko Takano / Composer Born in Nagoya, Japan, Keiko Takano was brought up in the city of Tatsuno in the west Japan. Keiko studied at the Royal College of Music and the University of London. Keiko took part in several composition competitions, festivals, such as Christof Deltz composition competition, the Bodensee Festival, and the World Music Days in Sweden, where she had prestigious awards and acclaim. Her works have been performed by instrumentalists in the UK, Europe, Japan and the USA, including members of the London Sinfonietta, Orchestre de Lille, cellist Adalbert Skocic and guitarist Carsten Radtke.
Keiko is currently involved in a film production of Child of Light based on a mythology around the Central Asia. She also worked for several theatre productions including Shakespeare's Richard III 'R3' which is a co-production by Tokyo International Players and Yokohama Theatre Group, where she composed original music, as well as her own work Kosatsuki for shadow play theatre.
Date: Wed Jan 8th 2014, 1:10–2:00 pm
Venue: St. Sepulchre, the Musicians Church, Holborn Viaduct, London EC1A 2DG
Tel: 020 72374445
Email: godfreyking316@btinternet.com
Web: www.ajsw.org.uk
Organiser: Anglo-Japanese Society of Wessex