Duo Recital with Mee Hyun Oh (violin) with Lydia Kwon (cello)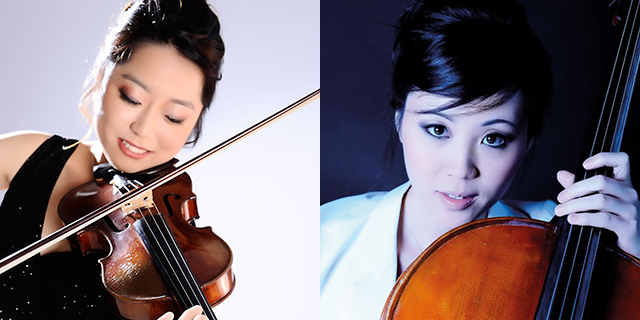 Programme:
L. Boccherini : Sonata for Violin & Cello
1. Allegretto spiritoso 2. Vivace 3. Grave 4. Allegro assai
G. Aberchtsberger : 3 Duets for Violin & Cello
Duet I in C major : Duet II in F major : Duet III in A minor
R. Gliere : Huit Morceaux, op. 39
1. Prelude 2. Gavotte 3. Berceuse 4. Canzonetta
5. Intermezzo 6. Impromptu 7. Scherzo 8. Etude
J. Halvorsen: Passacaglia for Violin & Cello
Artist info:
Mee Hyun Oh (violin) was born in South Korea and began her musical studies by learning the piano at the age of four. It was not until she was thirteen that she started to study the violin. Just one year later, she won the prize at the Ulsan Educational Institution. In 2004, she graduated Kewon High School of Arts. As a student there she played with the school orchestra at Seongnam Art Centre in South Korea.
Mee Hyun is currently based in Great Britain where she completed the Bachelor's Degree and MA performance degree at the Royal Academy of Music with Professor Tomatada Soh and Nicholas Miller.
She has participated in many master classes, including with Tasmin Little, Sibvia Rogenburg, Itzhak Rashkovsky, Thomas Brandis, Alexander Pavlovic, Max Zorin, Jasna Maksimovic and Zvi Zeitlin. She won 1st prize at the North London Music Festival in 2011 and in several other competitions. She has given many solo recitals and also with chamber music ensembles in notable venues such as at Bristol Cathedral and St.George's Interantional Concert Hall Bristol, St. Marts Church in Portchester, St. Margaret's Church, St. Sepulchre's Church and St Dunstan-in-the-West in London.
And she is a regular violinist with the AJSW's own Chamber Music Ensemble.
Lydia Kwon was born in Seoul, South Korea, and started learning the cello at the late age of fifteen after having been inspired by seeing Yo Yo Ma and Jacqueline du Pré. She advanced very quickly and within two years, she passed her grade 8 with distinction and entered Junior Academy. She played for the Stoneleigh Youth Orchestra where she was co-principle cello, performing solo with the orchestra before she went to College. She had master classes with David Strange, Stephen Popov, Raphael Sommers and Rafael Wallfisch. She gained a place at the Royal College of Music, studying cello under Leonid Korokhov and Alexander Boyarsky. During her study at the RCM, she had won prizes at Eastbourne competition, Duke of Deveonshire Prize and Anna Shuttleworth Prize. After leaving the RCM, she continued her studies in PGCE and MA studying music education at Institute of Education and currently works as string tutor at Kingston Music and Arts as well as a class music teacher in primary schools in Surrey.
As a chamber musician she and her friends Meehyun Oh and Songyi Kim formed the Elpis Piano Trio, receiving 1st prizes both at the Kingston Music Festival and Sutton Music Festival in 2012. She also had been playing for AJSW (Anglo Japanese Society of Wessex), such as a Duo recital and in the AJSW Chamber Music Emsemble, where she performs regularly in venues like St. Georges in Bristol and St. Sepulchre's Chruch in London. She also has been a member of the All Souls Orchestra, Langham Arts for last five years with which she performs regularly, travelling around the UK and Europe.
Date: Tue Feb 16th 2016, 1:05–2:00 pm
Venue: Cheltenham Town Hall and Pittville Pump Room, Imperial Square, Cheltenham, Gloucestershire GL50 1QA
Tel: 020 72374445
Email: godfreyking316@btinternet.com
Web: www.ajsw.org.uk
Organiser: Anglo-Japanese Society of Wessex