DVD Launch: KanZeOn – A Sensory Exploration of Sound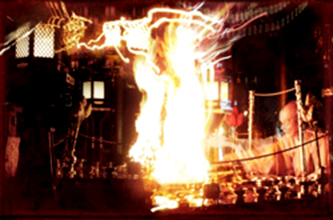 KanZeOn is part documentary, part sensory exploration of sound, revealing a rarely seen view of Japanese culture through ancient rituals and musical spectacle. Largely shot in Kyushu, the film revolves around three figures in whose lives music and religion plays a central part– Akinobu Tatsumi, a young Buddhist priest who takes care of a temple near Kumamoto and in his spare time is a hip-hop DJ and beatboxer; Eri Fujii, who is inspired by nature in her mastery of the ancient Chinese instrument, the sho; and Noh theatre drummer and teacher, Akihiro Iitomi, who also is a huge jazz fan. Since its release in 2011, the film has played to enthusiastic audiences around the world. This event celebrates the release of the double-disc edition of the complete KanZeOn project – the DVD contains the 86 minute feature, a 20 minute AV remix by amoeba.av and four lost scenes. The CD features the remastered film soundtrack and a series of remixes by musicians including woob, KidKanevil, tatsuki* and ManOne, who were given source material taken from the film's soundtrack. The co-directors will talk about the development of the film and its accompanying projects, touching on subjects such as the inspiration of the composer Toru Takemitsu, the parallels between the philosophy of sound in esoteric Buddhism and the practice of sampling in hip-hop music, as well as discussing the influence of Japanese cinema in making this film.
KanZeOn will be on sale at the event for a special discounted price of £15. Please visit www.kanzeonthemovie.com for more information.
Date: 22 November 2012, 6:00pm
Venue: Daiwa Foundation Japan House, 13/14 Cornwall Terrace, Outer Circle, London NW1 4QP
Tel: 020 7486 4348
Email: office@dajf.org.uk
Web: http://www.dajf.org.uk/event/kanzeon-a-sensory-exploration-of-sound
Organiser: The Daiwa Anglo-Japanese Foundation