DVDBANG: Famous Movie Story
Travelling movie room, DVDBANG, brings South Korea to an empty shop front at Birmingham's Flatpack Film Festival this March.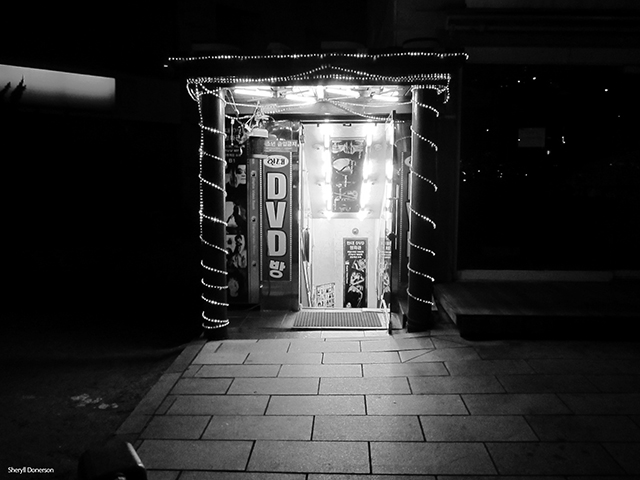 DVDBANG blurs on and off-screen discoveries in an immersive celebration of South Korean culture. From March 24 – 30 an empty shop front at Birmingham's Custard Factory will be transformed into a Korean lounge and screening room. Guests can browse the film library, slurp some noodles, hang out and find out what it's all about before piling into the movie room for a South Korean film. At the kiosk, DVDBANG serves up exclusively South Korean snacks and drinks, including beer, soft drinks, kimchi and choco pies.
Half rental shop, half cinema, DVD-bangs are an icon of South Korean entertainment culture. In 24hour districts, the streets hum with neon signs for film libraries leading to low-lit corridors of private cinema rooms. The first of its kind in the UK, with an 8ft wide screen and a capacity of eight, DVDBANG has Flatpack's best ratio, promising a movie experience like no other. In a blackout movie house, discover a thriving national cinema in a space that transports you all the way to Seoul.
'DVDBANG is a new way to see film in the UK, but they are scattered on every city street in South Korea, where room culture exists for all areas of entertainment (games rooms, karaoke rooms, even virtual golf rooms). Whilst living there, we found the experience of this room culture blurs the boundaries between private and public space, social yet intimate, playful for all ages, and creates community venues which are cultural, accessible and part of everyday life. DVDBANG is the perfect solution to the awkward relationship between cinema and home viewing, and invites everyone to try 'world cinema'.'
Project manager, Helen MacKenzie
The room can be booked for couples, groups, families or just for one: a social space where the rules of traditional cinema viewing are absolutely not enforced, but slippers definitely are. What you watch and how you watch it is up to you. We can't guarantee your friends won't still hate you if you rustle your rice puffs too loud.
DVDBANG is a world cinema and celebrates entertainment for everyone, South Korean style.
DVDBANG runs from 8am to 2am, Monday 24th to Sunday 30th March at the Custard Factory, Birmingham.
Free samples and tasters. Freebies and discounts for certain screening times.
Link to buy tickets:https://www.eventbrite.co.uk/e/dvdbang-tickets-8991099621