Emerging Young Artist – Mokspace Award 2014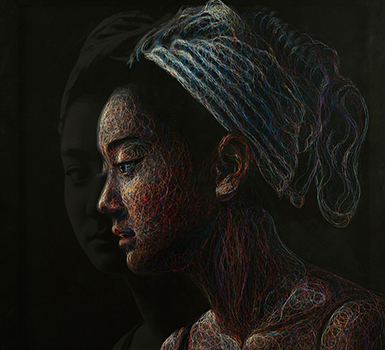 Daewoong Kim: Beyond sustenance – Letter From Home
For Daewoong Kim's life, the subject of loss is very pertinent. Kim's father could not escape the feeling of great sadness not only over Kim's grandmother's death but missed many aspects of her life; home cooked meals in particular. His father's loss made Kim reflect on the connection between his mother and himself. A connection that can be measured physically as well as emotionally as Kim moved away to London and his other lives in Korea. When describing Kim's identity as a person food is undoubtedly a central aspect. In many ways, particular foods establish Kim's identity as a Korean, but certain foods also resonate strongly with Kim as they are reminder of the emotional connection with his mother.
Hayun Choi: Desire – Way of Gaze and Power
We, as human beings, are existences to be seen in the world. As a social animal, people try to confirm his own values of existence through eyes of others and continuously desire his ideal self through interactions. Those desires tend to become a base of life and self-formation. Therefore, it is not exaggerated to say that we exist from interactions of being seen and showing oneself. Through the interaction between visions, we formalize the desire and its composition exerts a powerful vision that makes us feel pleasure form the vision.
With this base of concept, identity formed by others' eyes and paradigm of desire are intended to be expressed. The rotation of seeing, showing and interacting is depicted on the assumption that both a person who sees and a person who shows are principals in this paradigm.
Mee Young Kim
Mee Young Kim is a Korean artist based in London and Seoul. Her work involves subjects that relate to boundaries, which impact not only our daily lives, but also central to social or political issues. Lately, Kim works with the outgrowth that creates on the surface of painting as a metaphor for the division and the transit point of space.
Exhibition: 18th September – 4th October 2014
Venue: Mokspace, 33 Museum Street, Bloomsbury, London WC1A 1LH