Emiko Miura – piano recital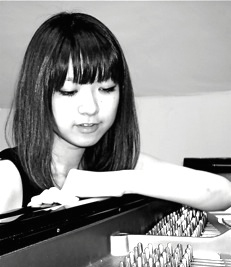 Born in Tokyo, Japan, Emiko Miura came to London in 2007 with an entrance scholarship to the Royal Academy of Music, where she studied solo piano with Kathryn Stott and Ian Fountain, and chamber music with Michael Dussek. She obtained the Frederick Jackson Award in her second year and graduated as a Master of Arts in 2009.
Before coming to London, she studied at Tokyo College of Music. During her studies she spent one year at the Liszt Ferenc Academy in Budapest as a postgraduate student with Balanyay Laszlo and Géza Németh (the Bartok Quartet).
Emiko has won many prizes including First Prize in the Japanese International League of Arts Competition and received the Janet Duff Prize (Best Performance of Contemporary Music) from the Royal Academy of Music.
Since 2007 she has been invited annually to perform in Tokyo at the international music festival "La Folle Journée au Japon" (a Franco-Japanese collaboration organised by the French Embassy). She has performed as a soloist in many international venues including Carnegie Hall, Tokyo Opera City Hall, Tokyo Bunka Kaikan, Suntory Hall, Liszt Ferenc Memorial Museum, St Dunstan-in-the-west, St Alfege Church, St James Church, London Science Museum and Bristol Cathedral. She is currently based in London and Tokyo works as a soloist and a chamber musician.
Date: Wed Dec 11th 2013, 1:10–2:00 pm
Venue: St. Sepulchre, the Musicians Church, Holborn Viaduct, London EC1A 2DG
Tel: 020 72374445
Email: godfreyking316@btinternet.com
Web: www.ajsw.org.uk
Organiser: Anglo-Japanese Society of Wessex