Evening of Kugutsu Japanese Puppetry: Including a Japanese Punch and Judy!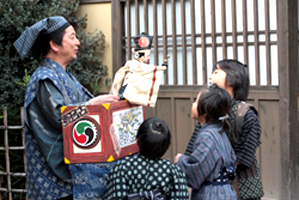 The evening forms part of a year celebrating the 350th birthday of British puppet 'Punch'. Japanese puppeteers Ito Shiro and Katami Eimei perform three short pieces – Punch performed in English by Ito Shiro, Kugutsu by Katami Eimei, a performance of traditional Japanese Kugutsu from ancient Kyoto, and finally the classic tale of Snow White, performed by puppets in Japanese under the mastery of Ito Shiro.
One of the earliest forms of hand puppetry, 'Kugutsu' was first seen on street corners of Kyoto in the 7th century, the puppeteers – or 'Kugutsu-shi' – performed from a waist-high box suspended from their necks by a cord.
The evening lasts 90 minutes with an interval and will be hosted by director Yoriko Iwata.
Date: 10 May 2012, 8pm
Venue: The Little Angel Theatre, 14 Dagmar Passage, Cross Street, London, N1 2D
Tel: 0207 226 1787
E-mail: info@littleangeltheatre.com
Web: www.littleangeltheatre.com
Tiket: £8, £6 (concessions)
Organiser: The Little Angel Theatre