Exclusive Tour – Yayoi Kusama at Tate Modern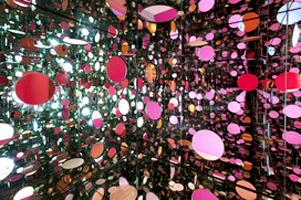 Courtesy of the Great Britain Sasakawa Foundation, Japan Society members are invited to an exclusive exhibition tour of Yayoi Kusama at Tate Modern. Richard Thomas, one of Tate's art specialists, will give a guided tour of the exhibition outside normal public opening hours from 9.00 – 10.00am. After the tour, Japan Society members are welcome to remain in the exhibition after the gallery opens to the general public.
This is the largest collection of Yayoi Kusama's work ever exhibited in the UK. It reflects nine decades of her life, from rural Japan to the New York art scene to contemporary Tokyo. This retrospective illustrates how Kusama has continuously re-invented herself and her artistic style throughout a long and distinguished international career. Yayoi Kusama continues until Tuesday 5 June 2012.
To reserve your place, please call the Japan Society office on 020 7828 6330 or email events@japansociety.org.uk
Date: Friday 11 May 2012 (8.45 for 9.00am start)
Venue: Tate Modern, Bankside, London SE1 9TG
Fee: £12 – booking essential (places are limited)
Booking deadline: Monday 7 May