Exhibition: ALIVE- Akiko Ban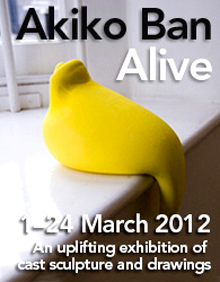 Date: 1 – 24 March 2012
Venue: Bicha Gallery, 7 Gabriel's Wharf – 56 Upper Ground – South Bank – London SE1 9PP
Email: info@bicha.co.uk
Web: www.bicha.co.uk
Organiser: Bicha Gallery
The intention of Akiko Ban's artistic practice is to give life to materials and generate separate entities which exist on their own. Each of her works is the result of a personal ritual and disciplined methodology. A process that has been influenced by the rigorous physical and spiritual training she has experienced as a qualified master of Japanese calligraphy.
She uses direct or real time casting as a means of capturing reality. Using liquid and flexible materials such as water, ink, plaster, fabric and rubber, she simultaneously integrates the process of model making, mould making and casting into one singular event.
There are aspects of capturing time, concentration, understanding and controlling material within real time casting. Unlike traditional casting, it is process which allows her to take the action and experience of something intangible over a short period of time and transform it into a visible object.