Exhibition: This is not just a picture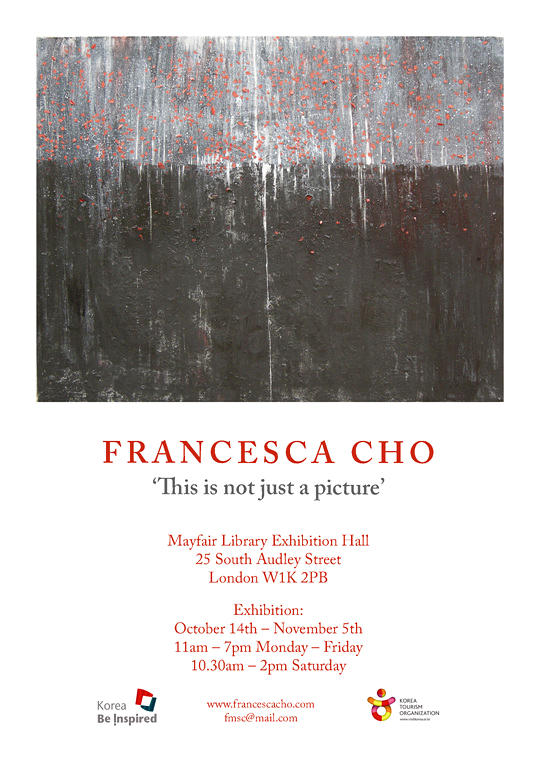 Date: October 14th – November 5th
Venue: Mayfair Library Exhibition Hall, 25 South Audley Street, London W1K 2PB
The title of the exhibition 'This is not just a picture' is a reference to the involved process that Francesca Cho employs when creating her work namely, painting with a mixture of ash and paint.
The ash is produced by burning former belongings e.g. old photos, letters, catalogues, paintings or drawings, legal documents and papers which showed the artist's name and address. The presence of unforgettable stories within the ash is now embedded in the paint of Cho's canvasses.
Ash is a symbol of mortality. The beautiful images created therefore are not just aesthetic, but are also an expression of her emotional response to everyday tragedies in the news and her desire to transform this into something more positive. In doing so they become cathartic.
'Performance'
In their performance art collaboration entitled: Elasticized Probation, Part I, Francesca Cho and Dagmar Glausnitzer-Smith will explore an "intertransitexchangecommunication" an experiment between sound, voice and object. Cho's words are from the sources of SIJO – Korean traditional poetry – and their foreign-ness will meet with Glausnitzer-Smith's sounds of everyday objects. The artists move within the boundaries of their own individual entity, however are deceivingly connected.