Exposure: Inside the Olympus Scandal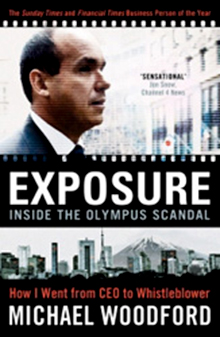 After becoming President of Olympus in April 2011, Michael Woodford became aware of some large unexplained payments the company had made in relation to overseas acquisitions. When satisfactory explanations were not forthcoming, he kicked up a fuss, only to be dismissed by the company's board in October. He had stumbled on one of Japan's largest and longest-running ever "tobashi", or loss-hiding, schemes. The resulting scandal led to the arrest of seven Olympus executives, including the former Chairman, and a drop of 75% in the company's stock market value, as well as a revival of broader concerns about Japanese corporate governance and audit standards. Introducing his new book, Woodford will give us the inside story.
"Michael Woodford had everything the corporate world could ever offer. Yet when he discovered rampant corruption at the core of one of Japan's most prestigious companies, he did not hesitate. This is a sensational personal account of a man of great courage and principle who got to the top, and blew the whistle to glorious effect. In the corporate world Michael Woodford is too rare and exceptional a breed." -Jon Snow, Channel 4 News.
* The book will be available for purchase on the day.
Date: 29 November 2012, 6:00pm
Venue: Daiwa Foundation Japan House, 13/14 Cornwall Terrace, Outer Circle, London NW1 4QP
Tel: 020 7486 4348
Email: office@dajf.org.uk
Web: http://www.dajf.org.uk/event/exposure-inside-the-olympus-scandal
Organiser: The Daiwa Anglo-Japanese Foundation