Film Screening: Brakeless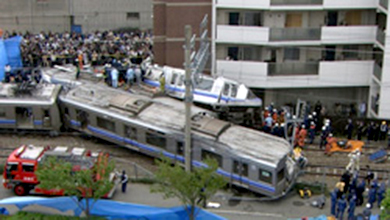 On Monday April 25th 2005, a West Japan Railway (JR West) commuter train crashed into an apartment building and killed 107 people when a driver tried to catch up with an 80-second delay. Since the accident, the official committee report has concluded that the direct cause of the accident was over-speeding and JR West have agreed to pay compensation for the victims and changed the timetable. However, the fundamental question has remained unanswered – what made the driver risk so many lives for an 80-second delay?
Piecing together personal accounts of those affected by the train crash, Brakeless looks at a society which does not seem to know when to stop its pursuit of efficiency.
It examines the way in which the characteristics that are usually considered the national virtues – punctuality and loyalty to protocol – have become societal impediments and ultimately, dangers to the people of Japan.
What happened on the day is examined in light of the historical and economic development in post-war Japan. It is a story about modernisation gone too far and a cautionary tale from a country that is cutting corners in all the wrong places in a prolonged economic stagnation. Through the lens of a catastrophic train crash in Japan, Brakeless considers the ultimate cost of efficiency.
Date: 2 October 2014, 6.00pm
Venue: Daiwa Foundation Japan House, 13 – 14 Cornwall Terrace, London NW1 4QP
Tel: 020 7486 4348
Email: office@dajf.org.uk
Web: http://www.dajf.org.uk
Organiser: The Daiwa Anglo-Japanese Foundation