Film Screening: KABUKU – Behind the Curtain of Contemporary Kabuki Theatre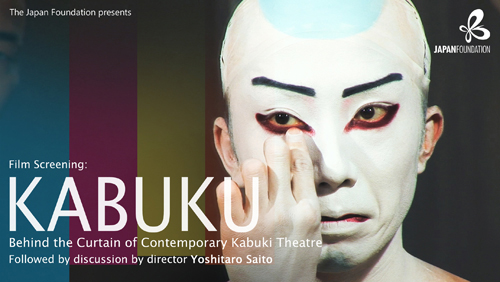 Kabuku is a fascinating documentary offering a behind-the-scenes view of the unique theatrical genre of Japanese kabuki. Focusing on the rehearsal process and lead up to the performance of the contemporary kabuki play Yoshitsune Senbon Zakura (Yoshitsune and the 1,000 Cherry Trees) – a version of which was also performed at Sadler's Wells in London in 2010 – the documentary follows the preparations by the play's well-known and respected actor, Kamejiro Ichikawa II, now inheritor of the prestigious stage name Ennosuke Ichikawa IV.
The film is an often unseen glimpse into the many backstage preparations involved; including kabuki stage make-up as well as the rarely unveiled traditional but very innovative routines and special effects behind some of the play's spectacular character shifts, exits and entrances. It will also reveal the meticulous, demanding and even daring tasks required by performers and set up by dedicated backstage staff, providing a colourful introduction to contemporary kabuki performances.
The screening will be introduced by Dr Alan Cummings, Senior Teaching Fellow in Japanese at the School of Oriental and African Studies, University of London, and followed by a discussion with the film's director, Yoshitaro Saito.
In Japanese with English subtitles
Date: 1 May 2015 from 6.30pm
Venue: Asia House, Fine Room 1, 63 New Cavendish Street, London W1G 7LP