Film Talk: Cultural Presentation in International Film Festivals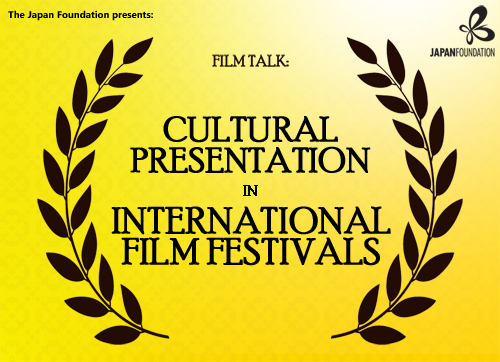 International film festivals have long provided a platform for films from all over the world to be showcased, and it is currently estimated that today over 100 film festivals are held in the United Kingdom. With such a flourish of film festivals of different size, type and focus taking place, what is it that makes a festival 'international', how do they present diverse cultures and indeed, what is their purpose?
Reflecting on this wealth of international film festivals in the UK, this special event at the Japan Foundation intends to explore the issues surrounding festivals presenting cultural identities by bringing together a selection of those who programme and curate respected festivals from in the UK. Joining the panel will be Chris Fell (Director of Leeds International Film Festival), Andrew Simpson (Programmer at East End Film Festival and Pan-Asia Film Festival), Hussain Currimbhoy (Programmer at Sheffield Doc/Fest), David Gillam (Director of Wales One World Film Festival) and chair Nick Walker (film programmer and writer), who together will discuss the role and aim of international film festivals and to what degree presenting films from all over the world is regarded to be a significant part of their programme.
With Japanese cinema as a focal point they will also talk about the position of Japanese cinema in their 'international' context and how they present and how they wish to present it for future festivals to come. Following on from last year's 'Stepping into the Unknown – Curating and Appreciating Lesser-known films' this event will provide a fascinating insight into the workings behind film festivals around the UK from those who directly realise them.
Date: 12 July 2013 from 6.30pm
Venue: The Japan Foundation, London