Films at the Embassy of Japan: 5 Centimeters Per Second (秒速5センチメートル)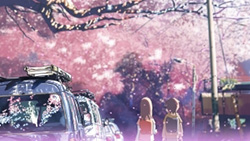 Takaki and Akari become best friends at elementary school, but they are separated as her family has to move away from the area. After a year apart, Takaki, now a junior high school student, decides to see Akari again. As he sits in the train travelling from Tokyo to Tochigi prefecture, memories of the past rush through his mind.
This animation film consists of three interconnected tales, Cherry Blossom Story, Cosmonaut and 5 Centimeters Per Second, which chronicle the love and lost innocence that span the minutes and months of their lives. The title, 5 Centimeters Per Second, refers to the speed at which cherry blossoms fall from the trees, reminiscent of the slowness of life and of how people often start out together but gradually drift into their separate ways. The director, Makoto Shinkai, has been acclaimed for his recent film 'Your Name.', which is now a worldwide hit.
Date: 25 October 2017, 6.30pm
Venue: The Embassy of Japan in the UK, 101 – 104 Piccadilly, London W1J 7JT
Web: http://www.uk.emb-japan.go.jp/itpr_en/films_booking.html
Organiser: The Embassy of Japan in the UK