Films at the Embassy of Japan: A Brief Message from the Heart  日本一短い「母」への手紙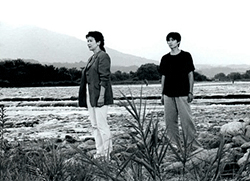 "Mom, are you happy with him? Father said nothing and died quietly." Hiroshi finds a short message that his sister Maki had written to the mother who abandoned them eighteen years ago. Their father has recently died of a heart attack, without talking about his divorce. Hiroshi decides to search for his mother, and tracks her down to a bar in the Ginza district of Tokyo. They become close, as though they had never been separated. However, Maki is upset and outraged as she finds her in Hiroshi's apartment.
The idea of the film was sparked by a single message included in a book entitled Japan's Best "Short Letters to Mom", which became a surprise best-seller. The episodic narration constructs a story around this message out of a combination of flashbacks and parallel scenes.
Date: 7 July 2015, 6.30pm
Venue: The Embassy of Japan in the UK, 101 – 104 Piccadilly, London W1J 7JT
Web: http://www.uk.emb-japan.go.jp/en/event/films/films_booking.html
Organiser: The Embassy of Japan in the UK