Films at the Embassy of Japan: Acacia Walk アカシアの道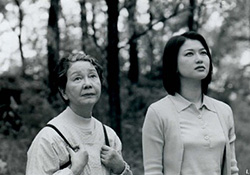 Miwako, an editor at a publishing company, hears from her aunt that her mother is ill. She has not contacted her mother since she entered university because the mother, under pressure as a single parent, was cruel to her. Being told that her mother is suffering from Alzheimer's disease, Miwako reluctantly agrees to go back and live with her. She spends the days full of stress and yelling at her mother. In fact, she finds herself acting in the same way that her mother did long ago.
Miwako starts seeing her ex-boyfriend in an attempt to seek peace of mind. However, coming to feel as if no one understands her, she is gradually driven into a corner. Early one morning, she impulsively puts her hands around her mother's neck…
Shedding light on the growing problem of providing nursing care for elderly parents, the film tells of the fragility of human relationships and of how people's unresolved emotions towards others can rebound on them.
Date: 22 March 2016, 6.30pm
Venue: The Embassy of Japan in the UK, 101 – 104 Piccadilly, London W1J 7JT
Web: http://www.uk.emb-japan.go.jp/en/event/films/films_booking.html
Organiser: The Embassy of Japan in the UK