Films at the Embassy of Japan: Bushido Sixteen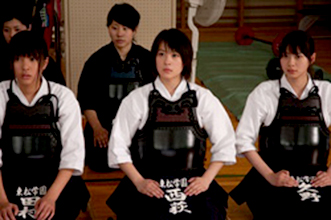 Kaori is a junior high kendo champion. She has been undefeated until one day she loses unexpectedly to an opponent in the same year. Six months later, at a prestigious girls' high school, she is reunited with her nemesis, Sanae, who has changed and does not even take kendo seriously. Sanae simply likes kendo and does it for fun.
While Kaori becomes selected as the first fencer for a preliminary district match for the interscholastic meet, Sanae is a reserve. Suffering a sprained wrist between the matches, however, Kaori is replaced by Sanae. In the match Sanae makes an incredible strike to the head, leading the team to victory. Kaori praises Sanae for the move as something begins to change inside her.
Date: 24 September 2014, 6.30pm
Venue: The Embassy of Japan in the UK, 101 – 104 Piccadilly, London W1J 7JT
Web: http://www.uk.emb-japan.go.jp/en/event/films/films_booking.html
Organiser: The Embassy of Japan in the UK