Films at the Embassy of Japan: The Burmese Harp  ビルマの竪琴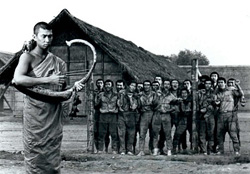 "Mizushima, come home with us!" These are the iconic words from one of the most famous and touching scenes of this film.
In the summer of 1945, the Japanese forces on the Burma front are finding it difficult to retreat across the border into Thailand. Private First Class Mizushima, who has made a Burmese harp, proves to be invaluable in keeping up the men's spirits. Once the ceasefire has been declared, he is assigned to the mission of persuading Japanese soldiers holding out in the Mountain Triangle to surrender. He fails. On his return to his platoon and eagerly desiring to return his country, he comes across the bones and decomposing corpses of Japanese soldiers. His true mission gradually dawns on him.
Date: 16 April 2014, 6.30pm
Venue: The Embassy of Japan in the UK, 101 – 104 Piccadilly, London W1J 7JT
Web: http://www.uk.emb-japan.go.jp/en/event/films/films_booking.html
Organiser: The Embassy of Japan in the UK