Films at the Embassy of Japan: The Piano in the Shed 物置のピアノ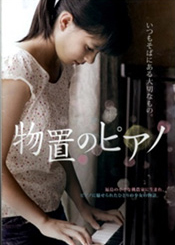 Prior to the screening, there will be a special talk on "Recovery and Reconstruction in Fukushima" by a representative of the Fukushima prefectural government.
In July 2012, a year and four months after the massive earthquake and tsunami struck the Tohoku area in Japan, the local people are still living under the shadow of the disaster. The farmers in Fukushima are grappling with the fear of radiation and the families who have been displaced from their hometowns are struggling with their day-to-day lives.
Haruka's grandfather, a peach farmer, is among those who have been hit by harmful rumours of radiation. In her final year at high school, Haruka cannot make up her mind about the path she should take in life. With a sense of inferiority towards her outgoing sister and haunted by the death of her brother, Haruka feels most relaxed and comfortable when she is playing the piano in the shed. There, music can bring back her happiest memories. In the meantime, following her encounter with an unfamiliar face, someone has been displaced from another town in Fukushima. She gradually starts to alter her view of the course she should take. Something is about to change in her. A little piece of music might be just the thing to help the town, as well as Haruka, take a step forward.
Date: 21 February 2017, 6.30pm
Venue: The Embassy of Japan in the UK, 101 – 104 Piccadilly, London W1J 7JT
Web: http://www.uk.emb-japan.go.jp/itpr_en/films_booking.html
Organiser: The Embassy of Japan in the UK