Films at the Embassy of Japan:Adrenaline Drive アドレナリンドライブ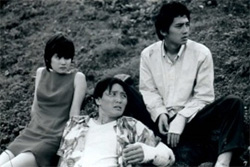 After an unfortunate accident with a gangster in a black Jaguar, Satoru is taken to the yakuza's lair. The thug adopts a threatening pose, ready to exact extortionate retribution. At that very moment, a violent explosion rips through the den, killing off almost the entire gang. Shizuko, a plain, timid nurse, happens to be outside the building demolished by the explosion and discovers Satoru, dazed and slightly wounded. She helps him into an ambulance. They are joined by the only other survivor, the Jaguar driver, who lies unconscious on a stretcher. All hell breaks loose. Amid the chaos, Satoru and Shizuko, acting in collusion, steal a trunk full of bloody cash and go on the run. To make matters worse, they soon find they have the Jaguar man and a gang of hooligans in hot pursuit. A fierce three-way scramble for 200 million yen now begins.
A hilarious comedy. With tight camerawork and an excellent script, the director manages to hold the tension throughout the film.
Date: 27 April 2016, 6.30pm
Venue: The Embassy of Japan in the UK, 101 – 104 Piccadilly, London W1J 7JT
Web: http://www.uk.emb-japan.go.jp/en/event/films/films_booking.html
Organiser: The Embassy of Japan in the UK