Flora Japonica exhibition – private view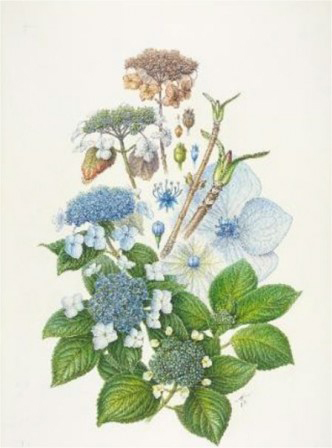 Botanical art has always been an important part of Japanese culture and continues to flourish, with both professional artists and also a large number of amateurs producing excellent botanical illustrations. Combining elegance and sense of design with scientific rigour, the botanical paintings show wild Japanese plants in perfect detail, capturing the diversity and artistic beauty of nature in Japan.
The Flora Japonica exhibition at the Royal Botanic Gardens, Kew celebrates the richness of Japanese native flora and its artistic representation portraying about 80 Japanese wild plants by 36 of the most eminent contemporary Japanese botanical artists as well as historic drawings and paintings of celebrated artists such as Dr Tomitaro Makino, Sessai Hattori and Chikusai Kato, which have never before been exhibited in Europe. In addition, the exhibition also features paintings of Japanese plants by non-Japanese artists in the Kew's Collection and pieces from Japanese artists in the Shirley Sherwood Collection.
Joining Kew's celebration of Japanese flora and botanical art, we are delighted to invite members and their guests to a private view of the exhibition, led by Masumi Yamanaka, botanical artist and co-curator of the exhibition. Born in Nara but now based in UK, Yamanaka is an artist specialising in ceramic design and botanical illustration. She has illustrated a number of monographs as well as contributing a significant number of illustrations to different botanical art magazines and publications. Yamanaka has shown work at the London Flower Show and Kew's Shirley Sherwood Gallery of Botanical Art among others and was also awarded The Margaret Granger Memorial Silver Bow by the Society of Botanical Artists. Since 2007, she has been a freelance artist based in the Herbarium at Kew.
Date: Wednesday 1 March 2017, 2.00pm to 3.45pm
Venue: The Royal Botanic Gardens, Kew, Richmond, Surrey TW9 3AB