Found in Translation: An Architectural Exchange Between Glasgow, Berlin and Japan – Neil Jackson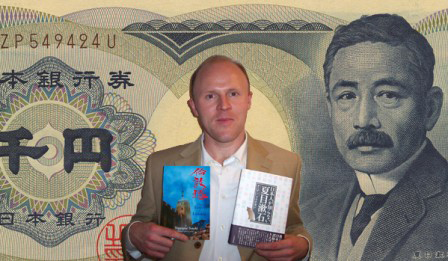 For a special edition of the Japan Society Book Club, members will be joined by award-winning translator Damian Flanagan for a tour of the Embassy of Japan's new exhibition on the Japanese novelist Natsume Soseki. The exhibition features assorted artefacts from Soseki's time in London as a government scholar. Flanagan will discuss these alongside his translation of The Tower of London: And Other Stories, Soseki's reflections on his two years in the city.
From the novelist's personal meishi holder, to letters to his wife and reading materials from his last lodgings in Clapham, the exhibition provides a glimpse into an extraordinary period in the novelist's life.
Damian Flanagan read English Literature at Cambridge University, then did an MA and PhD in Japanese Literature at Kobe University. As well as authoring or co-authoring seven books on Japanese literature, Damian's articles on Japanese politics, arts and society have appeared in numerous magazines and newspapers throughout Japan including Newsweek and the Nihon Keizai Shinbun. He is currently working on his own fiction and divides his time between a home in Manchester, England with a garden full of squirrels and a house in Nishinomiya, Japan, with a view of a centuries' old tree.
Date: Monday 3 February 2014, 5.00pm
Venue: The Embassy of Japan, 101-104 Piccadilly, London W1J 7JT