Gaea Girls Film Screening and QnA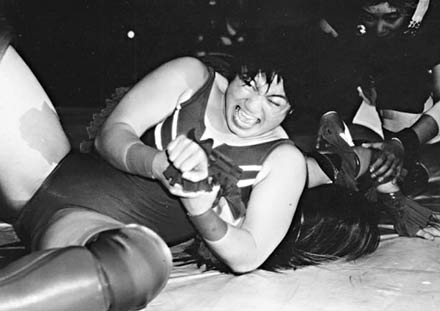 Filmed over a period of three months, Gaea Girls (Kim Longinotto and Jano Williams, 2000) is a film about courage, transformation and dreams in the extraordinary world of Japanese women's wrestling or joshi puroresu. It marked the fifth collaborative film between Longinotto and Williams examining gender defined and gender defying roles in contemporary Japan.
Although the Gaea Japan wrestling association was disbanded in 2005, in 2015 its founder Chigusa Nagayo announced a new wrestling group, Marvelous, which launched in 2016. As the violent spectacle of joshi puroresu continues to prove popular, Longinotto and Williams' work allows us to reflect upon the daily routines and social conditions of this sport's female participants.
Gaea Girls centres around the hopes and fears of the beleaguered Gaea Japan squad, whose reputation hangs by a thread after a series of setbacks in the ring. At the heart of the film is Nagayo, who attempts to fashion a group of new recruits in her own formidable image; the arresting documentary focuses on the physicality – indeed brutality – of the demanding training regime undertaken by the Gaea girls in tournament preparation. In doing so, Gaea Girls addresses the broader question of women's empowerment in Japan.
The screening will be followed by a drinks reception and a Q&A with director Kim Longinotto, whose collection is housed and distributed by the Royal Anthropological Society.
Date: Tuesday 24 January 2017, 6.00 for 6.30pm
Venue: Royal Anthropological Institute, 50 Fitzroy Street, London W1T 5BT