Gardens exhibition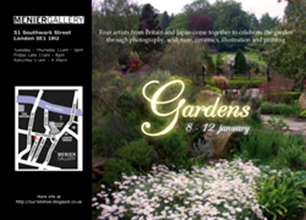 This will be the first group exhibition by these four artists, two British and two Japanese, each creating their own gardens through Photography, Sculpture, Ceramics, Illustration and Printing.
With artists from two cultures that give great importance to cultivating and enjoying gardens, the artworks give personal and sometimes contrasting methods of experiencing gardens, landscapes and related themes.
The theme 'gardens' gives surprisingly numerous angles for artists to explore, from Traditional gardens to the legendary gardens at Babylon and Eden.
Date: 8 – 12 January 2013
Venue: Menier Gallery, 51 Southwark Street, London SE1 1RU
E-mail: gruntsenator@gmail.com
Web: http://our1stshow.blogspot.co.uk/
Organiser: Tom Payne Studio