Geisha in Rivalry by Kafu Nagai, Japan Society Book Club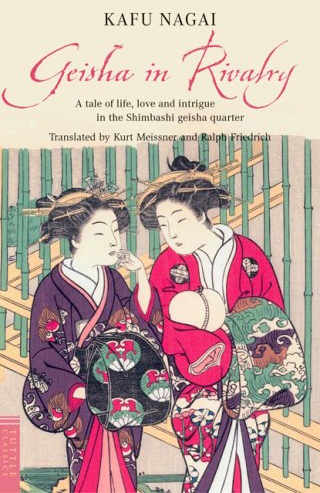 Date: Monday 9th May 2011, 7 pm
Venue: 5th View, Waterstone's Piccadilly, 203-206 Piccadilly, London W1J 9LE
The book for discussion at this meeting is Geisha in Rivalry by Kafu Nagai. The book club itself is conducted in English but members can choose the language in which they read the book.
First published in 1918, the story is set against the backdrop of Tokyo's Shimbashi geisha district. The story of three geisha, imperious Rikiji, gaudy Kikuchiyo, and the naïve heroine Komayo, Geisha in Rivalry follows them in their search for a place in a world that offers no easy route of escape from their profession. With a full cast of vivid characters playing out their dramas of illicit love, shady intrigue and unrelenting rivalry, Geisha in Rivalry is the sordid but fascinating tale of Komayo, her lovers, and the women who conspire to steal them from her.
The book club is held on the second Monday of the month. There is no restriction on the nationality of the authors read, but books should be available in translation in both Japanese and English. The discussion is conducted mainly in English, but you can choose the language in which you read the book. The intention is simple; to explore the themes of the book, express personal opinions on the style and content, discuss how the book has changed (or not) in translation and to have a relaxed discussion with others who have similar interests.
The book club is informal and any member is welcome to attend. However, so that we can look out for you, please us know if you plan to come by email to events@japansociety.org.uk or tel: 020 7828 6330