Generation to Generation: Window on Ise – Japan's Most Sacred Place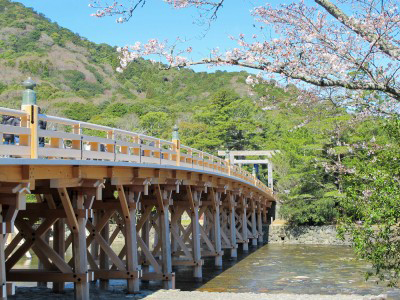 The 42nd G7 summit will take place on 26-27 May in Ise-Shima in Mie Prefecture. The site of the Ise Grand Shrine, this area is known as the spiritual heart of Japan, a place of both cultural significance and scenic beauty.
For this special event we welcome a number of guest speakers, including the Mayor of Ise, who will share their experience of this distinctive region and discuss what it means to them. The evening will include short talks and a panel discussion, a shakuhachi and koto performance and end with a chance to taste specialities from the region.
Among other things, we will learn about the Shikinen Sengu: the ritual in which the shrine is rebuilt every twenty years. What does this signify, and how does it enable the handing down of wisdom and traditions from generation to generation? Is it indicative of a distinctive relationship with the local environment?
Shin'nyo Kawai is currently a senior priest at Ise Jingu. He began his service to Ise Jingu in 1975. With the 62nd Shikinen Sengu he became the head of PR at Ise Jingu and currently is the head of both Sengukan Museum and Jingu Chokokan Museum. He has written a number of books about the Shrine and Japanese history including The Wisdom of Ise (Ise Jingu no chie), recently translated into English.
Kenichi Suzuki has been Mayor of Ise City since 2009, having been elected to Ise City Council in 2003 after periods working in business and as secretary to a member of the House of Representatives.
Reverend Katsuji Iwahashi is Chief of the Public Relations Section of Jinja Honcho (the Association of Shinto Shrines). He studied for an MA in Shinto studies at Kokugakuin University and an MA in the Modern History of Shinto shrines and the Relationship between the Government and Shinto Shrines at the School of Oriental and African Studies in London. He became a Shinto priest in 1992 when he was 22 and later joined Jinja Shimpo, a Shinto newspaper, as a reporter. He has worked extensively on the ecological aspect of Shintoism in modern Japan, attending many international events on faith-based ecological action.
Dr Simon Kaner is Director of the Centre for Japanese Studies at the University of East Anglia and Head of the Centre for Archaeology and Heritage at the Sainsbury Institute. He is an archaeologist specialising in the prehistory of Japan. He has undertaken archaeological research in Japan, the UK and elsewhere and worked for several years in archaeological heritage management in the UK.
The Hibiki Ensemble, featuring this evening Michael Coxall (shakuhachi) and Keiko Kitamura (koto), perform music from the traditional, classical repertoire to the very contemporary and will set the mood, with a short recital at the start of the evening.
Date: Wednesday 20 April, 6:30pm
Venue: The Swedenborg Society, 20-21 Bloomsbury Way, London WC1A 2TH