Get Lucky Yourself: Luna Jungeun Lee and Alejandra Contreras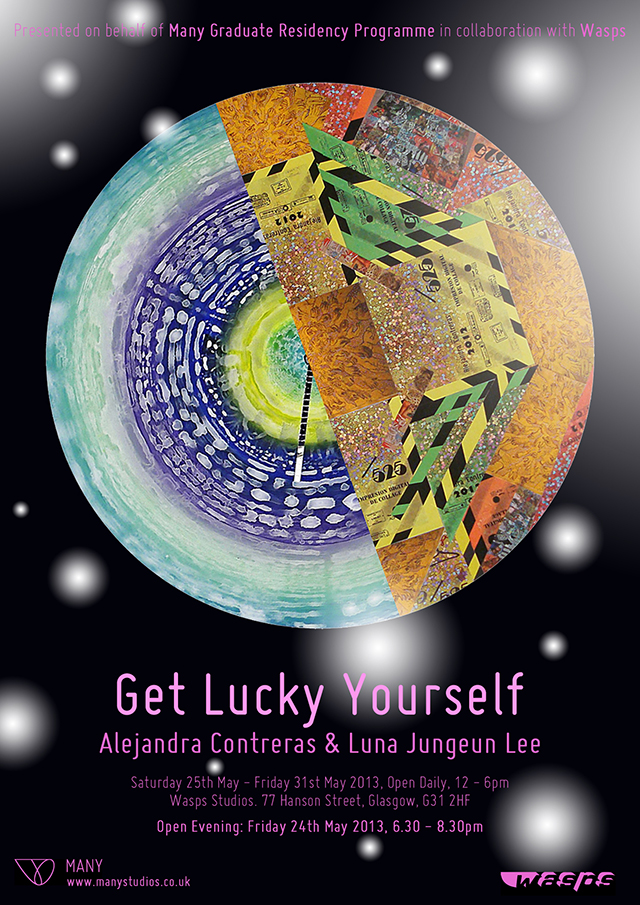 Last September four exceptional recent creative graduates were selected from over 100 applicants to take part in the 2012/13 Many Graduate Residency Programme. Working in collaboration with Wasps Artist Studios two of these graduates now present their two-person solo exhibition, 'Get Lucky Yourself', as the culmination of their residency time.
This exhibition will invite Scottish audiences to become more familiar with the work of two young international artists, who have previously won a plethora of awards for their primarily paint and print based practice. Beyond their 'traditional' approaches to manufacture both artists maintain and investigate strong contemporary conceptual enquiries, more regularly found manifest in the world of performance and net-art.
As her contribution Alejandra Contreras will present the result of her research into 'conviviality' and communicative skills, aiming to find new contexts for artists to work co-operatively. This research is first investigated through empirical experiments before becoming re-articulated through paintings which emphasise ways of manipulating matter to produce patterns of movement.
In keeping with this theme of the ephemeral being made concrete Luna Jungeun Leeapplies traditional western printmaking techniques and historical Korean compositional rules to the mass of amateur imagery that has bloomed with the newest digital distribution networks. Her everyday practice of trawling the internet for new imagery is a starting point for the artist to digest how digital technology has significant power to reshape the world and change the perception of being human.
Many Graduate Residency Programme is now in its third year and is quickly establishing itself as a new professional opportunity and supportive network for recent creative graduates. Unusual in comparison with other similar local ventures, the Many GRP is the first post-graduate programme in Glasgow not limiting its application process solely to Fine Art graduates. The Many GRP places a strong emphasis on the experience of community and collaboration and its relationship to developing sustainable, self-led practices.
Exhibition Run: Saturday 25th May – Friday 31st May 2013 (Open daily 12 – 6pm)
Venue: Wasps Artist's Studios, 77 Hanson Street Glasgow, G31 1HF