Glenn Gould and Natsume Soseki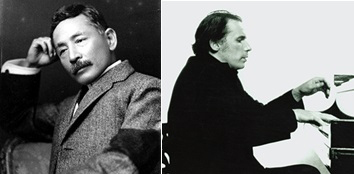 2015 marks the 50th anniversary of the publication of The Three Cornered World, Alan Turney's award-winning translation of Kusamakura by Japan's great literary maestro Natsume Soseki (1867-1916). Two years after it was published, the translation was read by the world's most famous pianist Glenn Gould (1932-82).
The Three Cornered World was not only to become Gould's favourite book, but also one that would obsess Gould for the last 15 years of his life. Gould subsequently bought every Soseki work that was available in English translation and had more works in his library by Soseki than by any other writer. He produced 37 pages of notes on The Three Cornered World and was preparing his own radio play based on the book before his untimely death intervened. When he died, there were only two books at his bedside: The Bible and The Three Cornered World. What was it about Soseki that so engaged Gould's interest?
Despite there being numerous biographies and documentary films about Gould's enigmatic genius, the impact of The Three Cornered World on him is a subject which has generally escaped consideration: was there actually a connection between Gould's celebrated late rendition of Bach's Goldberg Variations and his passionate interest in Soseki?
In this 50th anniversary year, Damian Flanagan celebrates an endlessly fascinating triangle linking Bach, Gould and Soseki – a Three Cornered World connecting three extraordinary geniuses.
Organised by the Daiwa Anglo-Japanese Foundation in association with the University of Edinburgh
Date: 12 March 2015, 6.00pm
Venue: Daiwa Foundation Japan House, 13/14 Cornwall Terrace, London NW1 4QP UK
Tel: 020 7486 4348 Fax: 020 7486 2914
Email: events@dajf.org.uk
Web: www.dajf.org.uk
Organiser: Daiwa Anglo-Japanese Foundation