Go Global Week 2013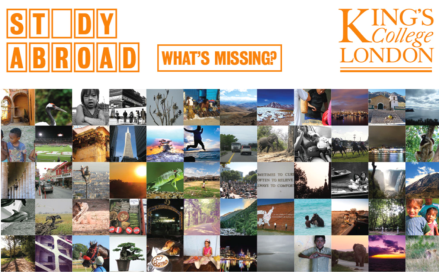 The Study Abroad Team at King's College London will be hosting an event called 'Go Global Week' from the 11th-15th November,' where we will be promoting study abroad to all our students, particularly study in East Asia. In celebration of our new partnerships with Korea, Japan and Hong Kong. we will be hosting a Launch Event on Thursday 14th November from 12pm and would very much like to have you come along!
The schedule will be packed with culture, spotlights on specific destinations and the opportunity to meet our Peer Advisors. Students will be able to obtain the practical knowledge of how you can apply to study abroad and hear about the experiences of students through the Study Abroad Briefings. In addition, at events like the Japanese Cultural Session you will have the chance to learn more about Japanese traditions, customs and food. We are also launching a film series where every night we will be showcasing a different foreign film. There is something for everyone!
Go Global Week is open to anyone and everyone so please come along. We look forward to seeing you there!
Our proposed schedule is as follows. After the performances and talks, we will be serving refreshments, where you will have the chance to mingle with students, staff from King's and our international university partners and also other cultural organisations.
12:00-12:10 Gather
12:10-12:20 Dragon Dance
12:20-12:25 Introduction to Study Abroad
12:25-12:30 Educational Talk – Hong Kong
12:30-12:40 Korean Culture Performance
12:40-12:45 Educational Talk – Korea
12:45-12:55 Japanese Dance
12:55-13:00 Educational Talk – Japan
13:00-13:30 Everyone can join in learning the Japanese dance
For more information on Go Global, please see our website.