Godai Tomoatsu. Mancunian Overtures and the Japanese Industrial Connection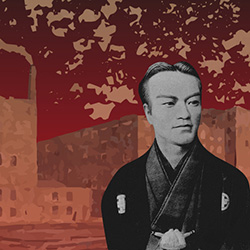 150 years ago a secret visit to Manchester and the North West by Godai Tomoatsu, student and agent of the Prince of Satsuma, from the south of the Japan, helped inspire and ignite the Japanese Industrial Revolution – creating Japan's first 'economic miracle'.
Godai's visits to mills, mines and merchants from the pioneering Manchester Chamber of Commerce to the silk manufacturers of Macclesfield, from Platt Brothers of Werneth to the copper veins of Alderley Edge, triggered one of the biggest transfers of technology the world has ever seen from the 1860s for decades to follow.
Date: 19 February – 31 March 2016
Venue: The Royal Exchange Theatre, Mezzanine Gallery, St. Ann's Square, Manchester, M2 7DH
E-mail: kazumiwheale@gmail.com
Web: http://www.royalexchange.co.uk/whats-on-and-tickets/godai
Organiser: SPIN 180 B.V.