Grandchildren of Hiroshima (play screening)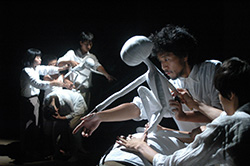 "I'm worried. The fact is that someday, there will be nobody to talk to about this. The younger people who are interested in passing this knowledge on are really few. I feel like it's getting too late." (Toshiko Tanaka, A-Bomb survivor).
To mark the 70th anniversary of the atomic bombing of Hiroshima and Nagasaki, in 2015 the London Bubble Theatre Company set out to transform this tragedy from a static collection of dates and events into a live, breathing monument from the past – and a warning from the future. They embarked upon an intergenerational, oral history and performance project called The Grandchildren of Hiroshima. Rooted in interviews between local children in Hiroshima and survivors of the atomic bombing of the city, the children were the same age as the elders were when they lived through the bomb. Eighteen hibakusha (A-Bomb survivors) shared their stories so that they could be explored and expressed through the medium of theatre.
From these testimonies, The Grandchildren of Hiroshima was born. A volunteer cast, aged between 8 and 80 years old, performed the show from 6 to 9 August 2015 at the Aster Plaza Theatre in Hiroshima and the Setagaya Public Theatre in Tokyo. We warmly welcome you to a screening of the Hiroshima production of The Grandchildren of Hiroshima.
Date: 8 March 2016, 6.00pm
Venue: The Daiwa Anglo-Japanese Foundation, Japan House, 13/14 Cornwall Terrace (Outer Circle), London NW1 4QP
E-mail: ruth@londonbubble.org.uk
Tel: 0207 237 4434
Web: http://londonbubble.org.uk
Organiser: London Bubble Theatre Company