HENRO 2012 An exhibition by TAKUMASA ONO- Inspired by National Trust Properties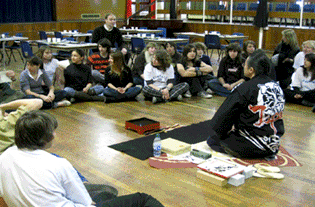 The exhibition by Japanese artist Takumasa Ono will include a wide range of watercolours, screen-prints and Sumi-e, a traditional form of Japanese brushwork, capturing the very best of National Trust properties.
Takumasa, who has lived in Gloucestershire since 2002, was the official artist of the National Trust in Japan and has also worked on many artistic projects with National Trust properties throughout the UK.
During his time in the UK, Takumasa has developed a high regard for how organisations such as the National Trust and the Cotswolds Conservation Board help to conserve and enhance the natural landscape. Part of the proceeds of his exhibition sales are therefore being donated to the National Trust.
Takumasa said: "I love the National Trust properties and have always enjoyed trying to capture the beauty of this landscape through my work. I am very excited about the exhibition and looking forward to establishing a partnership with the National Trust."
Date
6 Apr – 9 May: Kedleston Hall, Derbyshire
20 May – 12 Jun: Ickworth House, Sufforlk
16 Jun – 12 Jul: Hanbury Hall, Worcestershire
1 Aug – 2 Sep: Baddesley Clinton,Warwickshire
Web: www.takumasa-ono.com
Organiser: National Trust / National Trust Support Centre in Japan