HIKARI by Aki Kondo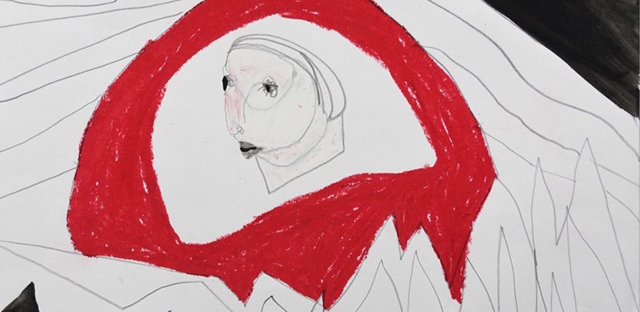 On 11 March 2011, the Great East Japan Earthquake hit the north-east coast of Japan. At that time, Aki Kondo was attending an art university in Yamagata just over the mountain from the disaster stricken area. The school was temporarily closed, forcing Kondo to return to her family home in Sapporo. In this period she created a huge number of drawings and paintings. Overwhelmed by the shocking scenes on TV news, Kondo tried to express the fear, anger and sadness felt by people all over Japan as a result of this devastation; a piercing sense of loss and hopelessness which she describes as "the secondary tragedy". To those who experienced the earthquake, the world has irrevocably changed after the catastrophe. Those who survived are constantly challenged to comprehend the significance of the natural disaster and the escalating nuclear tragedy that followed.
After graduating and moving to Tokyo, Kondo continued to create artworks related to the earthquake, as if they were prayers to the deceased. HIKARI is a small collection of this larger body of 400 works, carefully selected by the artist for their powerful connection to the memory of the immediate aftermath of the disaster. Alongside these two-dimensional pieces, the exhibition will present her 33 minute film HIKARI for the first time in Europe. Made of both animated and live-action segments, the film was originally inspired by a dream of reincarnation and hope. Composed by repeatedly shooting oil-on-glass images one frame at a time, this film functions as an extension of Kondo's paintings, giving them words to convey traumatic feelings which could not be otherwise expressed.
The exhibition title HIKARI, meaning "light," represents the hope we need in order to live on after the disaster, and suggests that the victims are still with us in this world in the form of light. Despite the fact that we are all surrounded by a world of uncertainty, we still carry on living everyday life because of hikari: hope. In this exhibition, Kondo attempts to reconcile the remembrance of this tragedy and a renewed appreciation of life itself.
This exhibition is held in collaboration with ShugoArts. ShugoArts
Admission free, Monday – Friday, 9.30am-5.00pm
Private View :
22 September 2016, 6.00pm – 8.00pm
The private view will begin at 6pm.
Date: 23 September – 31 October 2016
Venue: Daiwa Foundation Japan House, 13/14 Cornwall Terrace, London NW1 4QP UK
Tel: 020 7486 4348 Fax: 020 7486 2914
Email: office@dajf.org.uk
Web: http://www.dajf.org.uk
Organiser: Daiwa Anglo-Japanese Foundation