Human rights activists remember Tiananmen in central London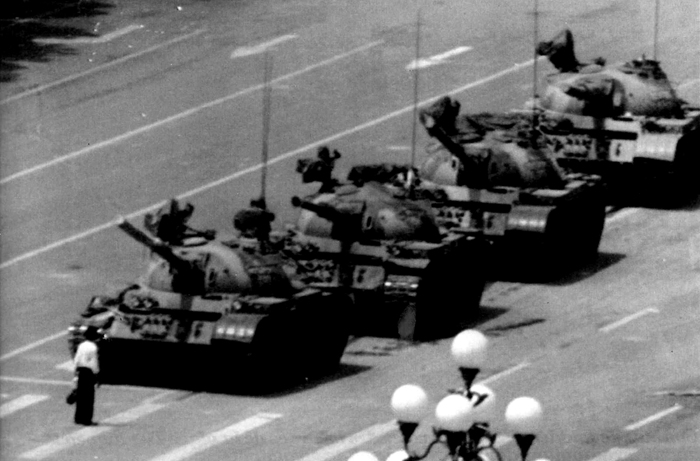 On 4th of June, a large number of human rights activists and members of the UK's Chinese community gathered in Central London to mark the 22nd anniversary of the Tiananmen Square Massacre.
Events began with a flash mob in Trafalgar Square where around 60 people held up placards with the names of the 185 identified victims of the crackdown. One of the participants, Philippa Carrick, said: "We are gathering here in our national square to make a political statement. We do so without fear for our lives or freedom. In 1989 in China people were killed for doing the same in their national square in Bejing; 185 lost their lives. The real number of deaths was probably over 1000. Twenty two years later, it is appalling that human rights defenders in China are increasingly being persecuted and repressed; it is shameful that world governments stand by and do nothing to condemn the Chinese regime's complete disregard for the rights of the Chinese people to basic freedoms and universal human values."
Following the flash-mob, activists went to Chinatown where survivors of the Tiananmen Square Massacre and Jeremy Corbyn, MP for Islington and Vice-Chair of the All Party Group for Human Rights spoke of the past and present situation in China whilst leaflets in Chinese and English were handed out to hundreds of people.
Tiananmen survivor, Shao Jiang, reminded those gathered that, "Twenty-two years ago, the Chinese Communist Party cracked down the pro-democracy protests that began in April 1989 around the country. Over a thousand peaceful protesters lost their lives and tens of thousand were put into jail … Today the Chinese regime continues to quash dissents and suppress basic civil rights such as freedom of speech, freedom of press and freedom of association and assembly, and freedom of religion in the name of building up a harmonious society."
Jeremy Corbyn commented that those who stood up and spoke out about the Chinese government's human rights record should not be seen as being against China, saying, "It does not serve China well to deny people the right to internet access, the right to opinion, to freedom of speech, freedom of religion. This is said in friendship and support of the rights of the people of China. In the UK, we have been through debate and dissent and this has made us a stronger society. We must now support those in China who are standing up for their beliefs and rights. Progress and freedoms come from respecting others, not at the expense of human rights."
Further speakers drew attention to the current situation in China, that people are being detained for expressing their political views and that 22 years after Tiananmen Chinese people still have no political freedom.
Events concluded with a candle-lit vigil at the Chinese embassy on Portland Place where Shao Jiang and members of the Chinese community read out the names of 185 identified victims who died or remain in detention. As each name was read out, a vigil participant held it up towards the Chinese Embassy in remembrance.