HYPER JAPAN Christmas Market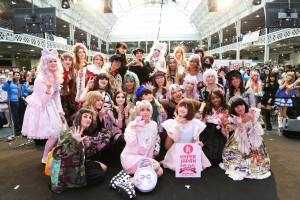 This year's HYPER JAPAN Christmas Market will be held at the beautiful Tobacco Dock on 27-29th November, and will carry on the true HYPER JAPAN spirit of bringing visitors the best of Japan. Centred around Japanese cuisine, but packing a solid line-up of culture and entertainment, the event combines favourites like the Sushi Awards 2015 and the Sake and Cocktail Awards 2015 with your favourite exhibitors and cutting-edge performers!
November's Christmas Market will offer plenty of shopping opportunities in the extensive Tobacco Dock venue, whose picturesque setting creates an enchanting Christmassy atmosphere for festive shoppers. Dozens of businesses will be showcasing the best quality Japanese goods this side of the Pacific, and neither our range of exquisite cuisine including Ramen, green tea and quality confectionary, nor our exciting stage shows and all-star guests are to be missed either! Amazing entertainment, gourmet dining, manga,
anime, cosplay, fashion, gaming and retail combine to make HYPER JAPAN's Christmas Market 2015 a must-visit event in everyone's winter calendar, especially for those who are seeking Japanese Christmas gifts that can't be found anywhere else.
Date: 27 – 29 November 2015
Venue: Tobacco Dock, London, Dock, Tobacco Quay,, Wapping Ln, London E1W 2SF
Web: http://www.hyperjapan.co.uk
Organiser: Cross Media Ltd.