HYPER JAPAN Festival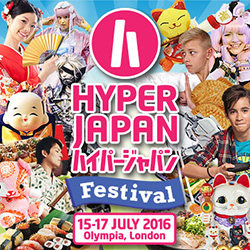 HYPER JAPAN Festival is your one-stop experience for all things Japanese this summer. Take in the festival atmosphere with family and friends, and share your passion for whichever is your favourite facet of J-culture! Enjoy the latest videogames, anime or manga, the best of everything kawaii as well as entertainment like live stage performances of the hottest J-Pop music and more. Savour food and drink from sushi and sake to snacks and sweets, before soaking up some traditional Japanese culture such as hand-crafts and martial arts, even learning some Japanese language, or even getting travel advice about a trip to Japan of your very own!
EAT-JAPAN
Our Eat-Japan area allows visitors to experience the very best of Japanese food and drink in the UK! Japanese staples such as sushi and ramen, plus authentic street foods as well as sweets and snacks both traditional and quirky will be available for everyone wanting to spice up their summer Japanese-style. You can even pick up some authentic Japanese culinary knowledge by attending our live events, for example sake seminars and tastings, cooking demonstrations and more!
HYPER Game and Anime Park
No celebration of modern Japanese culture would be complete without two of Japan's most influential exports; we'll have a special area filled with the newest videogames, as well as some retro gaming favourites, alongside merchandise from your favourite anime and manga series. Industry pros ranging from directors and producers to anime theme song singers are a regular feature, and HYPER JAPAN is also your chance to lay your hands on authentic Japanese goods, featuring your favourite characters. The truly dedicated fans can go a step further, showing off your cosplay cool in our cosplay stage show!
Kawaii
We've got the style that's admired and emulated around the world, especially the neon glitz and quirky cute of Harajuku's street fashions. Our own HYPER J-Style Collection will fill our runway stage with a mixture of the hottest trends and classic looks to inspire you as you peruse the selection for your own J-style makeover from the best selection of Japanese and J-inspired fashion sellers in the UK, including unique one-of-a-kind handmade items and accessories. As well as kawaii fashion, you're also well-served for Japanese kawaii items such as branded goods and the ubiquitous cute & cuddly toys that set off any J-fashion ensemble!
Culture
Aficionados of traditional Japanese culture are well-catered to as masters of the martial arts will show off their skills, featuring alongside live folk music and other talented performers. On top of this, our exhibitors will offer items such as kimono and other fashion items, some of which will be hand-made works of art as well as unique fashion accessories. If you fancy visiting Japan for yourself to take in some traditional culture first-hand, there'll be plenty of travel advice on-hand too!
Tickets: From £15, Tickets go on sale around March.
Date: 15 – 17 July 2016
Venue: Olympia Grand, Hammersmith Road, Kensington, London W14 8UX
Web: http://www.hyperjapan.co.uk
Organiser: Cross Media Ltd.