Informal Social Infrastructures: Living in Sendai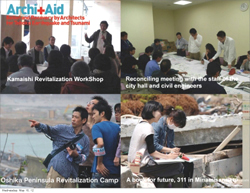 Professor Hitoshi Abe will give a talk entitled "Living in Sendai" in which he will introduce an overview of what has been happening in Tohoku since the Great East Japan Earthquake on 11 March 2011, illustrating a series of specific projects and responses initiated by various architects and organizations. Professor Abe is the founder of Archi+AID, which is a network to support the relief and recovery projects made by architects for the Tohoku earthquake and tsunami. This talk will propose a forum to re-think the role of architects with regards to the reconstruction of social spaces in the ever-increasing complexities of cities with the need of informal infrastructure. The talk will be chaired by Shin Egashira, Diploma School Unit Master and Visiting School Course Director at the Architectural Association.
This talk is linked to the exhibition at the Embassy of Japan in London, YATAI HERE YATAI THERE, which is on display from 18 June – 13 July as a part of the International Architecture Showcase at the London Festival of Architecture. The theme of the 2012 London Festival of Architecture is "The Playful City". For more information, please visit: www.lfa2012.org.
This talk is organised in association with the Embassy of Japan and Architectural Association School of Architecture.
Date: 25 June 2012, 6:00pm – 7:00pm
Venue: Daiwa Foundation Japan House, 13 – 14 Cornwall Terrace, London NW1 4QP. Nearest tube: Baker Street
Tel: 020 7486 4348
Email: office@dajf.org.uk
Web: http://www.dajf.org.uk
Organiser: The Daiwa Anglo-Japanese Foundation