Ingrid Fuzjko Hemming Charity Piano Recital 2014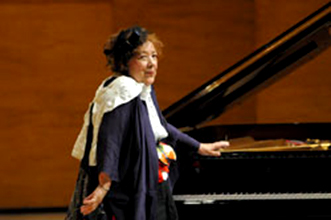 Ingrid Fuzjko Hemming, Japan's legendary concert pianist returns to Cadogan Hall for a special one off performance! She is performing with special guest, Vasko Vassilev in aid of animal welfare charities and the proceeds will be donated to the charities including Japan's animal rescue centres for the animals affected by Great East Japan Earthquake and UK's Celia Hammond Animal Trust.
Fuzjko has her own style and with Vasko, this will make for an enthralling musical experience!!! Animal
Tickets: £35, £25, £15
Date: 23 March 2014
Venue: Cadogan Hall, 5 Slone Terrace, London SW1X 9DQ
Tel: 07710 779 880
Email: coooluk@btinternet.com
Web: http://www.cadoganhall.com/event/ingrid-fuzjko-hemming-piano-recital-2014/
Organiser: Coool Communications Ltd.